Mirror/Mirror Episodes
Fall 2013 Nail Trends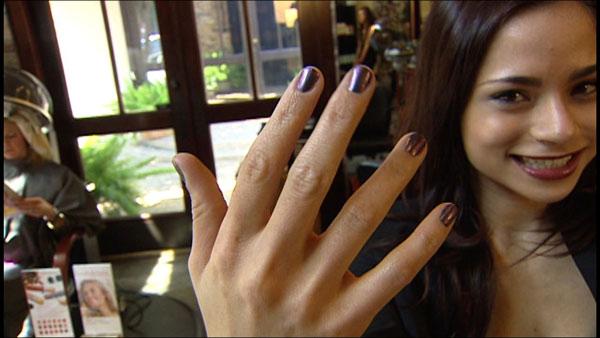 From chalkboard, to mood polish, to concrete in a bottle, here are this season's top nail polish trends.
No look is complete without nails, so here's how to update your "top ten" with fall 2013's nail trends. "We have been seeing texture show up for the last few seasons and it keeps getting more creative," says salon owner Rachel Gower. Here's her list of the textures, polishes, and nail looks she loves:
Concrete Nails
Rachel likes this take on texture. She recommends Nails Inc.'s Concrete nails,
available in four colors at Sephora
Mood Polish
This "mood" topcoat changes color in hot/cold, but equires a UV-light to activate it. You can also take the polish to your manicurist. You can buy
Orly Gel FX Shade-Shifter Polish at Amazon.com
.
Fall-Colored Side French Manicure
Take a fall color like brick red for the base and using black as the accent along the side edge of your nail instead of white along the free edge. It's best to use gel or shellac polish as the base so you can easily fix any mistakes.
Chalkboard Polish
If you don't like nails on a chalkboard, what about a chalkboard on your fingertips? You can get this chalkboard paint nail polish by buying the
Ciate Chalkboard Manicure kit, available at Sephora
. If you don't want to buy the kit, get a similar look with black nail polish and a matte topcoat.
Galaxy Nails
For this nails that are out of this world, try
Essie's "For the Twill of It," available at drugstores.
The New Natural
If you love your nails as is, try "Nail Glow" by Dior, which enhances your natural nail. It's available at Dior counters or at
Sephora.
Colors of the Season
Here are Rachel's recs for this season's top colors:
Red, such as OPI's "Big Apple Red"
Wine, such as OPI's "Lost On Lombard"
Sapphire, such as OPI's "In The Cable Carpool Line"
Gray in any shade
Cuticle Tattoos
The latest in nail trends doesn't stop at your nail bed. Try these cuticle tattoos, easy to apply just like temporary tattoos. Just add water and stick 'em on. You can
get them at radnails.com.
For more from Rachel at The Upper Hand Salon, visit
theupperhand.com.