Mirror/Mirror Episodes
Ear Lobe Repair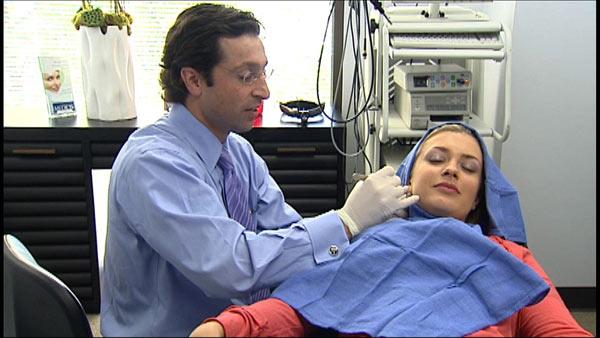 Earrings can add a special sparkle to an outfit, but wearing them can be uncomfortable, impossible or dangerous for some women.
Facial plastic surgeon Dr. Etai Funk is all ears when it comes to his patients and believe it or not, earlobes are a hot topic for women, like Jessica.
"My earlobes are very small. In fact, I mostly wear studs and fine wire earrings because I can't wear anything heavy," says Jessica James.
"Patients who have small ear lobes can get them augmented with fillers such as Restylane or Juviderm," says Dr. Funk.
Fillers also work for women whose earlobes have gotten thinner and more flimsy due to collagen loss as they age. That will typically last about 6-9 months.
Dr. Funk says the American Pediatric Academy recommends that kids get their ears pierced once they are old enough to take care of their ear lobes themselves meaning cleaning them and avoiding an aspiration risks of them choking on the earring or the back of the earring.
Dr. Funk also recommends patients not get piercings through the cartilaginous portions of the ear because it can cause an infection and lead to destruction of the cartilage and a serious deformity of that ear afterwards.
One of the hottest trends for earlobes, mainly with younger generations, is gauges.
"So gauged ear lobes are one in which the piercing expands the ear lobe itself and acts almost like a tissue expander. Once the gauge is removed the ear lobe won't contract to where it was before it will remain quite thin and flimsy. Repair of these is quite difficult and will lead to a much smaller ear lobe than they had before the gauge piercing," says Dr. Funk.
But a common problem for women is what Dr. Funk calls slot ear deformity. It's caused by a variety of things including wearing heavy earrings or earrings getting caught and ripping the ear lobe.
"Once the ear lobe becomes cosmetically unappealing to you or you notice that the slot ear has extended significantly that's a good time to come in and see your plastic surgeon to repair your lobe. Ear lobe repair is an easy procedure, there is very little discomfort involved with it and it's done right here in the office. Typically, what we do is we repair that slot ear by excising or taking out that track of skin in that slot and sewing it back together, and once we've sewn it back together and it's healed 6-8 weeks later we can re-pierce that ear," says Dr. Funk.
For more information:
Etai Funk, MD
Funk Facial Plastic Surgery
www.funkfacialplastics.com