Mirror/Mirror Episodes
Detox Beauty Treatments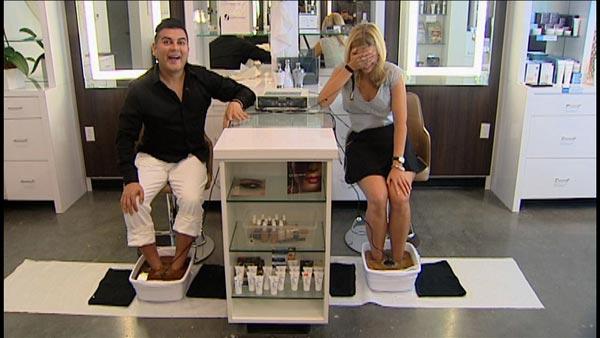 Detox treatments can rejuvenate your mind, body, and soul. Here's how to create a homemade detox drink, two detoxifying salon treatments, and how to shop for products to pull those toxins out of your system.
"Toxins have a general tendency to age us. So, if we want to try to be younger and healthier, we want to remove those toxins so ur bodies can function better," says beauty expert Edward Sanchez, owner of Vanity Lounge. Edward shows us how to detox our bodies from head to toe. At his salon, guests are always offered a refreshing detox drink, and Edward shares the recipe with us. The recipe uses alkaline water, which has a pH of 8.8 or higher. Alkaline water can be purchased online, bought through a local health food store or even made at home with a special machine or tablets. Edward says alkaline water helps with irritation, calming and cooling the body. The recipe uses cucumber, which helps the lymphatic system, lemon, which breaks up mucus in the body, and mint, which helps the body detox by improving digestion. You'll need:
Two gallons of alkaline water
One whole sliced cucumber
One sliced lemon
One cup chopped mint
Allow all the ingredients time to seep and flavors to blend. Then, drink! Edward recommends skincare products to help the body detoxify as well. Look for products with antioxidants such as Vitamins A,C, and E. "Those vitamins help to protect you against free radicals and help detox your skin," says Edward. In addition, Edward recommends products with bentonite clay, an ingredient he says helps absorb toxins in the body. Colloidal oatmeal is also a great ingredient, he says, because it helps to exfoliate the surface of the skin, removing toxins on the surface. Edward also recommends two spa treatments, a pore ionic detox facial and a detoxifying foot bath. The facial starts by removing makeup and opening the pores with a steam treatment. Then, a clear softening gel is applied to help liquefy the oil in the skin. While holding a positive diode, the negative diode is rolled over the skin, causing a tingling sensation. The remaining oil is removed from the skin with suction. Next, a positive diode is run over the skin, closing the pore and putting moisture back into the skin. Edward recommends not wearing makeup for 24 hours after the facial, but says if you do apply makeup, use organic products. The detoxifying foot bath is a warm water foot bath with a diode inserted to create a positive charge in the water. Edward says the process pulls out negatively charged particles through pores in your feet. Edward says the practice is controversial, with some saying that the diode is just removing minerals from the water, but his salon uses distilled water for the treatment. After the bath, the water inside turns different colors, depending on what kinds of toxins are released. Edward recommends doing a detox facial once a month and a foot bath every 4 to 6 weeks, but recommends the detox drink everyday. For more on detox therapy, Edward's salon,
Vanity Lounge.