Mirror/Mirror Episodes
DIY Nail Marbling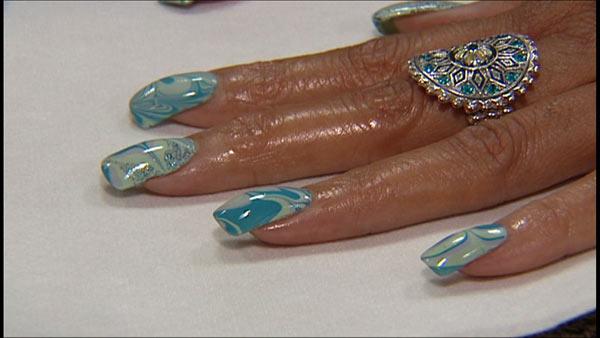 Can't settle on a color for your manicure? Nail marbling lets you swirl together four or more!
"Nail marbling is a water technique where the polish is floated on top of the water and it creates a marble/tie-dye effect on the nail," says Kevin Roberts from Michaelyndon Salon. The best part? You can do it at home!
Supplies:
Nail polish (3-4 colors)
Bowl with water at room temperature
Toothpicks
Acetone/Nail polish remover
Q-tips
Scotch tape
Steps:
Apply a coat of solid color base polish to each nail and let it dry. Make sure your nails are totally dry!
Add water to a shallow, wide bowl until almost full
Put tape around each finger and around the cuticle
Make the marbling glaze: Add a couple drops of the first nail polish to the water, then a couple drops of the second color in the center of the first color, and so on.
The polish will float on top of the water
Insert a toothpick into the center of the polish and make several lines from the center to the edge to swirl the colors
Dip one fingertip quickly into the marbling glaze
You want to keep as much of the polish in the bowl as possible. So take a toothpick and draw the polish away from your finger. Then, lift your finger out of the bowl
Soak a cotton swab in nail polish remover and wipe off the excess
Brush a clear top coat over the nails to seal the nail art
The polish will last about 2 weeks, but it will last longer if you put oil on your cuticles every day.
Here's a tip: have all the materials ready to go and within reach before you start. Unscrew the tops of the nail polishes. Dip the cotton swabs and balls in nail polish remover in advance.
For more information:
Michaelyndon Salon
www.michaelyndon.com