Mirror/Mirror Episodes
DIY Hardware Jewelry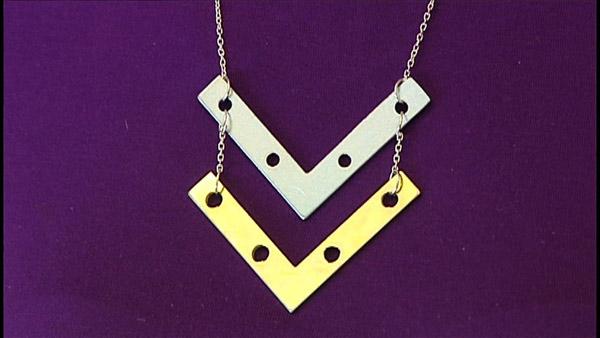 You can create unique and custom jewelry using metal brackets from the hardware store! Get clever DIY tips for making your own necklaces and bracelets.
Lifestyle Expert Kristen Hilyard shows us how:
GOLD BRACKET BRACELET
Supplies:
1 cabinet hinge (we used National brand)
4 jump rings
6+ inches of jewelry chain
1 jewelry clasp
Directions:
Cut two three-inch pieces of chain (more or less depending on the width of your wrist)
Attach the end of one piece of chain to the side of one hinge using one jump ring
Attach the other end of that chain to the other side (same end) of the hinge
Repeat with the other chain on the other end of the hinge.
Find the center of the chain loop and attach one jump ring to the center link.
Attach your clasp to that jump ring
Attach another jump ring to the center of the other chain loop (the other end)
Connect that jump ring to the clasp around your wrist!
"L-BRACKET" NECKLACE
Supplies:
2 L-brackets
1 long jewelry chain
Jump rings
1 Jewelry clasp
Directions:
Grab two brackets and decide the length that you want between each of the L-brackets for the necklace.
Count or measure out the two pieces of chain, making sure they are exactly the same on both sides.
Attach the two chains in between the brackets (connecting the brackets) using jump rings
Next, decide how far you want your necklace to hang around your neck and cut an appropriate length of chain.
Attach a jump ring to the end of the chain and then attach the top bracket. Do the same thing to the other side.
Hold your necklace at the very top and let it hang making sure you get the absolute center link. Cut the link to open the necklace.
Attach a jump ring to each cut side of the chain.
Attach a clasp to one of the sides and you're done!
More info:
Kristen Hilyard
Lifestyle Expert
kristenjoy.com