Mirror/Mirror Episodes
Cores and Chores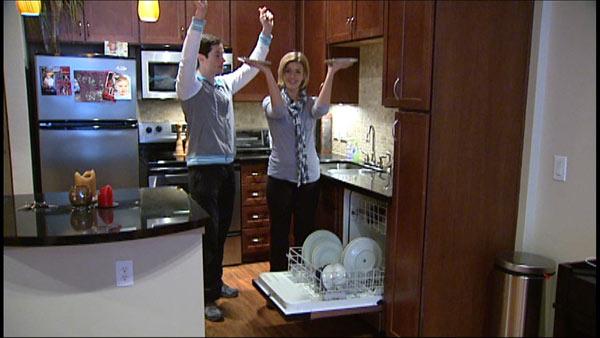 Sometimes it's hard to find time to work out. But you can get it done while you do your chores.
Owner of DEFINE Body and Mind, Hank Richardson, says, "Little by little, every single step you can take to make that change in your body, you're going to feel a difference by the end of the day.
Here are some of his favorite cores and chores exercises:
As you put your produce in a bag at the grocery store, do a few leg lifts.
After you get a few (equally weighted) bags of produce, hold one in each hand and extend your arms to the sides for 30 seconds working your shoulders (repeat a couple of times).
As you move down each aisle, do a few lunges behind your cart.
For a variation, twist to one side then the other while lunging and holding a bottle of water or juice.
As you carry your groceries to the car or from the car to the house, do biceps curls using the bags as weights.
While emptying the dishwasher, take a plate in each hand and do a few shoulder presses toward the ceiling. Be careful not to drop the plates! Do eight to ten reps with each set of plates you unload.
As you unload your glasses, do a few front shoulder raises. Hold the glasses in both hands, arms straight in front of you, then alternate raising and lowering each arm.
As you unload clothes from the dryer, put your heels together, your toes at 45 degrees, raise your heels off the ground and do some squats.
Need to clean your countertops? Wipe in big circles clockwise, then counter clockwise working your oblique muscles on both sides.
For more information:
Hank Richardson, owner
DEFINE Body and Mind
www.definebody.com
713-780-7799
Special thanks to Kroger: www.kroger.com