Mirror/Mirror Episodes
Boots and Booties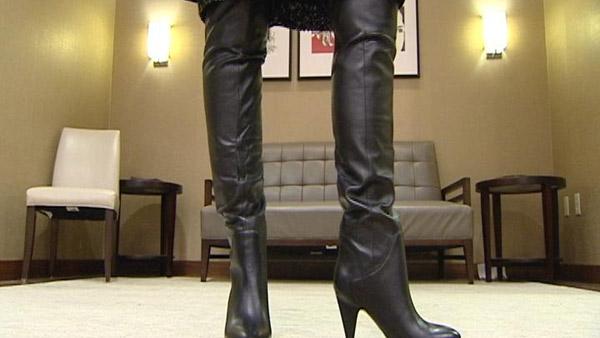 If you aren't sure where you want to invest your shoe cents this season, Stylist Wendy Norwood Patterson says you should consider investing in a new pair of boots.
From ankle boots to thigh high boots and every height in between, boots are the perfect way to update your wardrobe.
In this segment, Wendy shows us some of the hottest styles this fall and shares tips on the best way to wear them.
The bootie or the ankle boot is a style that looks great on everyone. They can be worn with skinny or boot cut jeans, as well as with tights and a skirt or dress. "It really is the most versatile of the boot family," says Wendy. The mid-calf boot, however, is a bit less versatile. "If you have a curvy calf, you probably want to stay away from the mid-calf boot," said Wendy. "Someone with a slimmer calf could very easily wear a mid-calf boot." Wendy recommends pairing mid-calf boots with skinny jeans, as well as slim-fitting dresses and opaque tights. If the mid-calf boot isn't the perfect fit, the knee-high boot can give anyone a step in the right direction. The most classic boot style, they work for all body types and come in a variety of heel heights. Wendy suggests wearing knee-high boots with skinny jeans, as well as dresses, with or without tights. Over-the-knee boots are also in style this season, but Wendy warns that this look is the toughest to pull off. "It's very easy to take the over the knee boot from classy to trashy," said Wendy. Because these boots can look daring, it's best to pair them with an outfit that's more covered up, like a jacket or sweater. If wearing an over-the-knee boot with a skirt or a dress, she recommends opaque tights to keep the look long and lean. Wendy suggests staying away from patent leather or platform boots, which can appear trashy. Whether you choose the over-the-knee, classic knee, mid-calf or ankle booties, follow these fashion rules and you can bet your boots that you'll be in style.
All of the boots in the segment were provided by Macy's.
For more information about Wendy Norwood Patterson, stylist, visit www.wendynorwood.com.