Mirror/Mirror Episodes
Bench Workout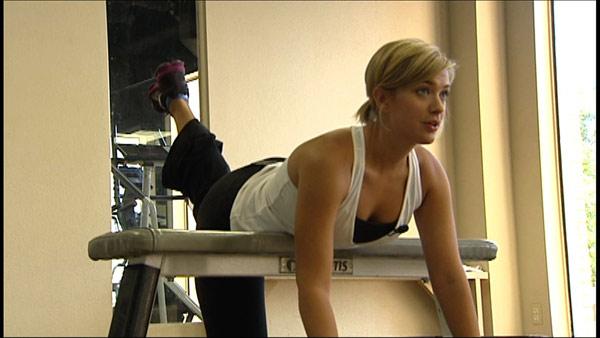 If you're short on equipment or just don't want to navigate through a gym full of machines, try a total body workout on a bench!
Personal trainer Ben Roberson says, "People don't realize that you can do hundreds of workouts on the bench." First, find a bench that hits right below your knee. Then, it's time for the Bench Body Workout:
Glutes & Hamstrings -- Lay across the bench, stomach-down, where your body is perpendicular to the bench. Hands and knees will be on the ground, either side of the bench. Lift your right leg, flex the foot, keep your knee locked, and lift up and down. This works hamstrings and glutes. This is a great modification for those with back problems.
Hamstrings & Quadriceps -- Straddle the bench and get into a lunge position. Sit all the way down on the bench. Barely come off the bench, and drop back down. Do this a minimum of twenty times and switch legs.
Inner Thigh -- Sit on the bench. Don't lean forward sit straight up. Reach your left foot inward toward your right hand and alternate. Do this fifty times.
Quadriceps -- Sit on the bench. Keep your back straight. Try lifting both legs up and down. If this is too difficult, extend one leg for twenty reps, and then move to the other leg.
Shoulders -- Lie on your stomach, length-wise on the bench. To do an upper rotation, extend the arms straight in front of you. Pull the elbows all the way back toward your obliques and extend overhead. Repeat.
Triceps -- Try a tricep dip with a challenge. Instead of dipping up and down, dip into the bench and extend outward.
Core -- Put your feet on the bench and walk your hands out, so you are facing the floor. Bring your knee to opposite elbow and alternate.
Core & Upper Body -- For someone more advanced, put your feet on the bench, and walk your hands out, so you're facing the floor. Get into a plank position, and walk hands back into the bench. Repeat, walking hands out and in. This works your arms, chest, back, core, and even a bit of legs.
For more information, contact:
Ben Roberson
Personal Trainer
One-2-One Training Center
713-524-0300
www.one2onetrainingcenter.com