Mirror/Mirror Episodes
Airbrush Makeup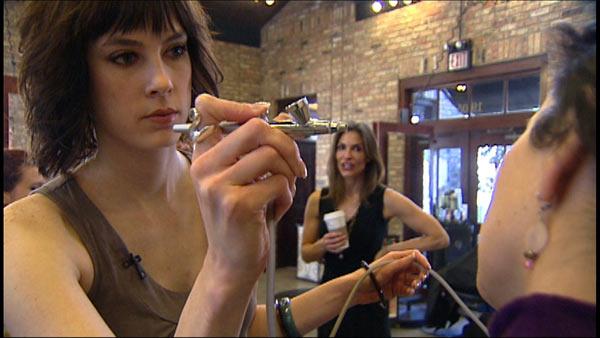 Airbrush makeup used to be expensive, for the rich and famous or only for special occasions. Today, you can get the same airbrush look for less -- at home!
It's the celebrity secret to flawless-looking skin. Salon owner Rachel Gower picks four of her favorites at four different price ranges.
Dinair
$200+
Small-scale professional system
Four times faster than regular liquid makeup
Buy the machine and liquid refill bottles
Good for covering bruises, blemishes, scars and tattoos
SKII
Unit about $165, refills $90
Small, light, compact size
Good for travel, easy at-home use
Available at high-end department stores
Christian Dior -- Diorskin Airflash
About $60
Spray foundation in aerosol can
Only comes in four shades
Available at high-end department stores
Maybelline
Dream Liquid Mousse -- Airbrush Finish
About $8
Applies like a liquid foundation (best used with a brush)
Gives and airbrush-like finish without the price
For more information, contact:
Rachel Gower:
Owner :
The Upper Hand Salon:
713-520-0772:
www.theupperhand.com
Great Waves
This season, smooth, straight hair is out! Instead, you want your hair to be wavy, natural and free-flowing.
Hairstylist Louis Lopez says, "All you need is a curling iron, a couple of clips and you have some great sexy hair." The best part, these styles can be done in about fifteen minutes at home!
Here's how:
Loose Waves:
Start with a volumizing shampoo and conditioner
Apply hair powder, powder spray or baby powder to add "grit"
Grab a section of hair -- the bigger the section the bigger the wave
Roll hair in a curling iron from the very end to the root, hold until hot
Release the curling iron slowly, but KEEP the round, circular shape of the hair
Pin the curl close to your head (you can do this look with hot rollers as well)
Let hair cool and remove the curls
Gently brush hair out and re-twist curls with your fingers
Lightly hairspray in place
Beach Waves:
This look works even if you have curly hair. Just use the curling iron to smooth through the hair like a flat iron before you curl. HOWEVER, DO NOT straighten the last two inches of the hair. You want the ends to be "raw" so the look is beach-like.
Start with a large barrel curling iron and curl sections of hair vertically (hold the curling iron vertically) toward your head. DO NOT curl the ends of your hair.
Let curls fall and separate them with your fingers.
Secure with light hairspray
Ringlet Waves:
Best for short hair, good for thin hair as well
Spray hair lightly with hairspray before curling to add staying power
Use smaller sections and curl with a smaller barrel curling iron from end to root.
Hold curling iron vertically, not horizontally while curling.
Do NOT break up curls with fingers, just hairspray again and go!
Wavy Up-Do:
After curling, separate hair into two sections -- the top of your head and the bottom half.
Pin the top half up to temporarily hold it out of the way.
Gather the bottom, underside half of hair and twist into a loose bun, secure with bobby pins
Twist the top section of hair the same way and gather on top of the bun you just formed, pin in place
Leave hair loose, do not smooth back, and hairspray
For one more variation, use a modern crimper (not the kind from the eighties!) and create finger waves in the front
For more information, contact:
Louis Lopez
Hairstylist
Michaelyndon Salon
www.michaelyndon.com