Mirror/Mirror Episodes
12 Insider Tips for Outlet Shopping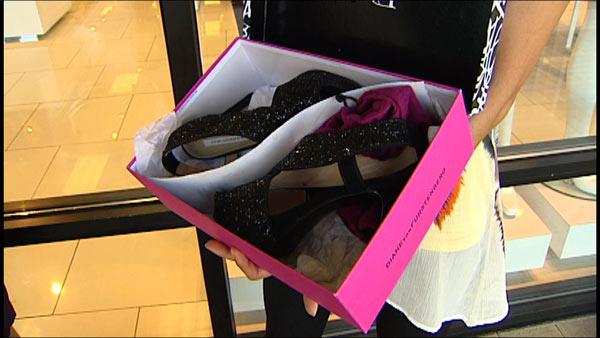 If you're headed to an outlet mall, here are 12 shopping tips from expert shopper that will net you couture clothes for less cash.
Expert shopper and image constultant Sarah Shah knows a good deal. "When working with my clients, I look for great values. A good value is not necessarily the cheapest item. Cheap is just finding a low price. Value is finding a balance between price and quality." Long ago, outlet stores were created to sell irregular items and factory seconds. Now, outlet stores carry first quality products. There are many names for outlet stores. They can also be called factory stores, company stores, last-calls. Outlet stores carry current season merchandise! Items are delivered and restocked daily from many sources, so it's not just last season's merchandise.
Tip 1: Ask for extra savings
Rebecca and Sarah ambushed some outlet shoppers to see what their best deals were. One shopper showed us how she got a Coach wallet for $40 after several markdowns and a 50 percent in-store coupon. Sarah says you should always ask store clerks if there's another way to save. Some outlet stores have in-store coupons, loyalty programs, daily specials, or other ways to save. You can also find coupons online or at a city's convention and visitor's bureau.
Tip Number 2: Don't be fooled by sale signs
"Not every deal at an outlet is a great deal, so if you've got a smartphone or a tablet, search online to see what the going rate is," says Sarah.
Tip Number 3: The more rare the outlet store, the better the deal.
Outlets that are available in every city may not have deals that are as good. One shopper we met got a Gucci purse that originally retailed for over $1000 at 50 percent off and a pair of runway heels for less than a quarter of the original price. Sarah says Gucci only has five outlet stores nationwide, which means better deals. In the Central U.S., there is only one Gucci outlet and one Uggs outlet. Uggs Retail stores never have sales. The only place to get Uggs on sale is in the outlet store. Gucci will even help locate merchandise and provide after-the-sale customer service. "Luxury outlets really believe in customer service, whether it's an outlet or a regular store," says Sarah. "You can call them with a wish list and they'll keep track of it for you, and when the item comes in, they'll call you."
Tip Number 4: It pays to dig.
Our next shopper found a pair of Frye boots for about $85 by not being afraid to dig through the clearance pile. "Sometimes those big piles of clearance can be really intimidating," says Sarah. "But if you're patient and you take your time and dig through it a little bit, you can really find some great deals."
Tip Number 5: You don't ask, you don't get.
The same shopper got a fabulous pair of glittered Diane Von Furstenburg heels that originally went for nearly $300 for about $50. How? She asked the sales clerks to show her the best deals in the store. "One way you can really get a great deal is to ask the sales associates, 'What's the best deal in your store?'" says Sarah. "They know the merchandise best, and they usually know where the hidden things ar,e and they're happy to tell you."
Tip Number 6: Ask for the sales schedule
"They have a sales schedule and they always slash their prices around the holidays," says Sarah. "You can call ahead and ask them when their next sales start and what items are covered."
Tip Number 7: Tag Team It
Outlet malls are big, so go shopping with a friend and let each other know about the great deals you find.
Tip Number 8: Watch for quality problems
Another shopper showed us a beautiful red leather purse she bought for about $89, originally going for nearly $500. That's a great deal, says Sarah, but she warns to make sure to inspect items for any problems they might have. "This is in great condition, but when you get something on deep clearance like that, it's a really good idea to just check it out," says Sarah. "Check to see if there's any scuffs, or how the stitching is or just to make sure there are no stains inside." If you find a problem, make sure it's easy to fix, or ask for another discount on it.
Tip Number 9: Never pass up a BOGO
Another reason to shop in pairs? BOGO sales. If you both need something, why not pool your purchases and save? Never pass up a buy one, get one 50 percent off sale, says Sarah, even if you don't need another item. "You can give it to a friend, use it as a gift, even donate it to a homeless shelter," says Sarah.
Tip Number 10: Know your outlet
There are three kinds of outlets, says Sarah. The first kind carries merchandise that was originally on retail racks, but is now at the outlet store. The second kind carries merchandise made specifically for the outlet store. These are often called factory stores. Stores say these products have the same quality as regular retail merchandise, but some shoppers don't agree. The third kind isn't really even an outlet store at all - it just happens to be in an outlet mall. Not sure what kind of outlet it is? Check tags and labels. Each tag and label will give you clues about whether the merchandise is the brand's regular retail merchandise or whether is it "made-for-outlet" merchandise. For example, The Gap "made-for-outlet" merchandise has three dots just below The Gap on the tag, while regular retail merchandise has no dots. Chico's "made-for-outlet" merchandise has a leaf just below Chico's on the tag, while regular retail merchandise has no leaf.
Tip Number 11: Know When to Shop
Malls can be busy on weekends. To beat the crowds and get first pick at merchandise, the best time to shop is early in the morning on Tuesdays and Wednesdays.
Tip Number 12: Come Prepared
Many outlet malls are big and outdoors. Dress for the weather and wear comfortable shoes! Also, bring snacks. It's easy to get mesmerized by the deals and lose track of time at an outlet mall. Bring snacks and water to keep up your energy! Outlet malls are big and bathrooms can be hard to find. Get a map and use bathrooms when you see them! For more from Sarah, visit
sarahshah.com
or
dressyourselfskinny.com.
Special thanks to the
San Marcos Convention & Visitor Bureau