Mirror/Mirror
Rebecca Spera
Rebecca Spera host of Mirror/Mirror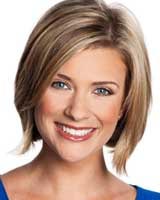 With a flair for style all her own, Rebecca Spera serves as host of "Mirror/Mirror" on the Live Well Network. Rebecca brings fresh insight and a sense of discovery to anything and everything that can make you feel better in front of a mirror. From fashion, to beauty, to health and medical breakthroughs, Mirror/Mirror has you covered.
As host of Mirror/Mirror, Rebecca takes viewers on fun, informative and unpredictable excursions designed to help women with their own fashion and lifestyle choices. The fast-paced, multi-topic show sorts through the barrage of beauty, health, and fashion information. Rebecca's producing and reporting experience is ideally suited for the range of subjects she'll cover. And her versatility allows her to comfortably move from important issues to having some fun.
Rebecca is a two-time Gracie Award winner. She has been nominated six times for an emmy -- twice for producing/hosting Mirror/Mirror and once for talent as host of Mirror/Mirror.
As a reporter, Rebecca earned a Lone Star Emmy Award for On-Camera Talent in 2007 for a report that focused on women's self esteem and offered advice on ways to develop self confidence.
Rebecca's producing efforts have been recognized with three Lone Star Emmy nominations. She received a nomination for a report that gave parents of teenagers an eye-opening look at how far some kids will go without sufficient supervision. She was nominated for a report on the pro's and cons of cosmetic surgery. And Rebecca received a third Emmy nomination for insights into romance and relationships, helping both men and women sort out the new rules of courtship.
Mirror/Mirror won the Gracie Award for best magazine program.
Rebecca earned a Bachelors of Arts Degree in Communications at La Salle University. She likes spending time with friends, exercising and taking dance lessons. But, of course, her true passion is shopping for bargains.