Recipes
Chewy, Chocolaty Brownies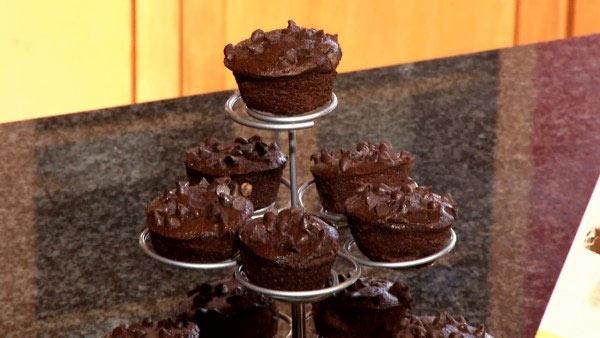 Servings: 24
Provided by: Devin Alexander's THE MOST DECADENT DIET EVER!
Butter-flavored cooking spray
1/2 cup unsweetened applesauce
1 teaspoon vanilla extract
8 large egg whites
2 cups raw sugar
1/2 cup unbleached all-purpose ?our
1 cup unsweetened cocoa powder
2 teaspoons instant espresso powder
1 teaspoon baking powder
1 teaspoon salt
1/2 cup mini semi-sweet chocolate chips
Directions
Preheat the oven to 350 degrees F. Thoroughly mist two 12-cup nonstick mini-muf?n tins with spray.
Use a sturdy whisk or spatula to mix the applesauce, vanilla, egg whites, and sugar in a large mixing bowl until well combined. Add the ?our, cocoa powder, espresso powder, baking powder, and salt. Stir until just combined and no lumps remain. Working in batches, ?ll each cup until just barely full. Sprinkle about one-fourth of the chips evenly over the brownies in each of the tins. Bake for 10 to 12 minutes, or until a toothpick inserted in the center comes out dry (a few crumbs are okay).
Transfer the tins to a cooling rack and cool for 5 minutes. Use a butter knife to gently lift the brownies from the muf?n tins (if they stick, carefully run the knife around the edge of each cup). Cool on the rack for another 10 minutes. Repeat with the second half of the batter and the remaining chips.
Each 1-Decadent-Disk serving (2 brownies) has: 109 calories, 2 g protein, 23 g carbohydrates, 1 g fat, <1 g saturated fat, 0 mg cholesterol, trace ?ber, 139 mg sodium
Copyright 2008 by Devin Alexander published by Broadway Books, a division of Random House Inc.