Live Big with Ali Vincent Episodes
Ways To Stay Heathy, Fit While Pregnant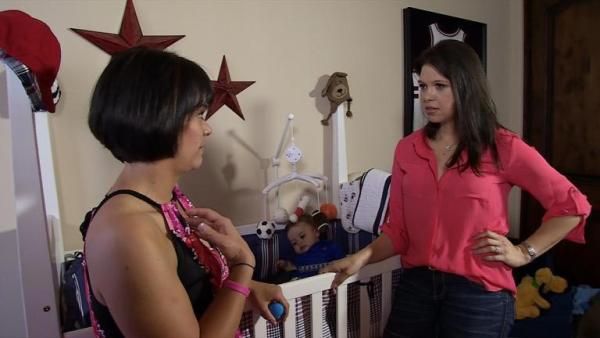 Moms are always asking Ali Vincent how to keep in shape and stay healthy while they're pregnant, so Ali went out and got some answers for all the future moms out there.
The labor and delivery room is where the grand finale happens. Most women know that pregnancy can be one of the most rewarding times in their lives. But along with that reward, there are a lot of challenges to be aware of. Keeping a healthy lifestyle is one of the biggest and nobody knows this better than Ali's sister, Holly.
Holly's bunch includes 5-year-old Macy, 6-year-old Avery, and little Steele, just one year old. Holly has always been in incredible shape since she was a yoga teacher. But, pregnancy threw her a couple curve balls.
With Avery, she gave herself the excuse that she was eating for two and ate whatever she wanted, whenever she wanted it, and in mass quantities. She would get pints of Haagen-Dazs and eat them while watching the Biggest Loser. She gained 50 pounds when she was pregnant with Avery
When pregnant with Macy, Ali was on the Biggest Loser show and they exchanged Haagen-Dazs for frozen yogurt, but she still put on weight. Holly said that when she first become pregnant, especially after never having had any kind of weight issues, it was an out-of-body experience.
"So with my pregnancy with him, I was just at peace with my body," she said. "I was more conscious. I tried to eat healthy but I just kind of listened to you know, what my body was wanting,"
Holly said the best advice she could give is to do everything in moderation. Your body is going to do what it's going to do.
"Those women who said that they loved being pregnant, more power to them, but I was not one of them," she said. "But I loved giving birth. It was such a magical like experience that, you know, there is nothing like that."
Holly's pregnancies were so significant in Ali's life, as well. Holly asked Ali to be in the delivery room when Macy and Steele were born.
Before you end up in the labor and delivery rooms, you are going to have a new best friend, your obstetrician who will answer all of your millions of questions that you might have throughout the process.
Ali sat down with Dr. Amy Stoddard, an OBGYN at the UCLA Medical Center Santa Monica, who said that preparing for the big moment begins with taking a prenatal vitamin. Taking supplements is crucial, especially folic acid, the most important nutrient for someone who is trying to get pregnant.
In the typical American diet you're not necessarily going to get enough folic acid and it helps prevent neural tube defects.
"The neural tube is the embryonic structure that's going to go on to become the brain and the spinal cord of the baby," explained Dr. Stoddard.
A healthy weight range is an important factor in pregnancy. For women that are overweight and especially women that are obese, that can definitely have a huge impact on fertility and sometimes losing just as little as you 10 pounds can bring women back down into a place where they're ovulating.
Dr. Stoddard explained that children of obese mothers are at increased risk for childhood obesity and adolescent obesity. The other risk is that a mother who has gained a lot of weight and might be diabetic in pregnancy has very high levels of blood sugar all the time and the baby will be used to being in this high blood sugar environment, so that when it comes out it can actually have difficulty regulating its blood sugar on its own.
As far as exercising, Dr. Stoddard said that it is fine to continue during pregnancy and suggests low-impact activities like walking, which helps with blood sugar and decreases the risk for gestational diabetes. She recommends that women in pregnancy get at least 30 minutes of exercise five to six days a week.
As far as her overall advice when it comes to pregnancy, Dr. Stoddard keeps it simple and direct.
"Healthy mom, healthy baby," she said. "That's the goal."
Everybody knows how popular yoga is, but what people might not know is how popular it has become with pregnant women.
Yoga is a practice where you use your body as a tool to access all elements of health and well-being and balance, and using that to balance your immune system, your mind, your spirit and bring overall health, vitality and well-being.
Christine Burke of Liberation Yoga says that if you're just starting when you're pregnant, go for something pretty basic and easy going until your body has caught up to something new, being pregnant, and then something else new, yoga.
Christine found that even though she has a pretty strong athletic-style practice, she was surprised to find out that during her pregnancy she mostly wanted a gentle restorative practice and wasn't as interested in doing some of the stronger things that she normally did.
"I had a pregnancy that was really comfortable at an older age," she said. "I had a birth that was natural and I really credit a lot of that to yoga, to the breathing, to the mindset and stretching."
In the simplest scenario things, Christine says that if things go fairly smoothly and you're not healing from anything too dramatic, you could head back immediately because in yoga there's always something you can do. It's really meant to fit the individual and the body, not to push yourself into a particular style.
If you are interested in starting in yoga, Christine suggests to start with something simple. Click here to see the three starting positions she recommends.
There is a good way and a bad way to go about eating when you're pregnant and registered dietician Alicia Calvo met with Ali to sort out the differences.
During the first trimester, your calorie needs are about the same as your pre-pregnancy calorie needs, Alicia says. You should only gain about two to four pounds.
During the second and the third trimester you need extra 300 calories, which really is not that much.
If you get pregnant at normal weight, an adequate weight gain would be 25 to 35 pounds. For a woman that is underweight, they need 28 to about 40 pounds of weight gain. And,, then the women that are overweight should try to keep it to 15 to 25 pounds.
Alicia says there can be a fear of gaining weight, but explained that you need that weight gain to ensure a healthy outcome. Click here for some healthy eating tips.
Three things that she hope you take away from this episode:
No. 1: Keep up with your healthy lifestyle. It's even more important now that you're pregnant because both your health and your baby's health depend on it!
No. 2: Be ready for a change because that's what being pregnant is all about. And remember, change is what got you this far, so embrace it!
No. 3: Teach your baby to Live Big from the start! If you raise your baby with a healthy lifestyle, he or she can have a whole life time of living big!