Live Big with Ali Vincent Episodes
Mercedes Starts Exercising, Goes on 'Live Big' Hike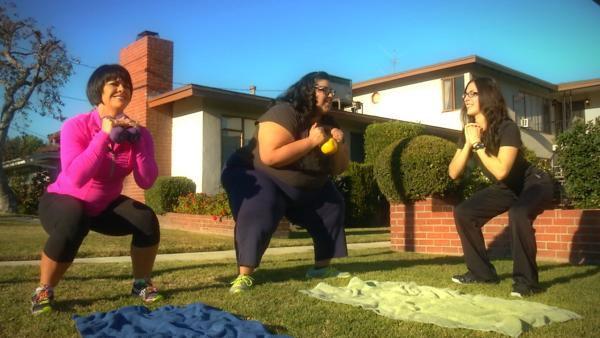 Mercedes Castro Miller, who weighs 410 pounds, is ready to get fit and live a heathlier lifestyle.
Before Mercedes can start a workout program, she needs to see a doctor for clearance. Dr. Liu is a weight loss specialist.
"She's got 52.6% fat. That's got to be one of the highest I've seen. Mercy's EKG shows that she has some left ventricular strain. Her big muscle, her heart is working at its maximum capacity. If she gets to be around 40 years old, she's going to be in congestive heart failure. She needs to ease into her exercise program and we really need to focus in on her diet," says Dr. Liu.
Mercedes used to do spinning, cardio kick boxing and swimming but she hasn't worked out in years. Ali hopes to change that. She introduced her to her new personal trainer, Amanda.
"You guys are going to figure out what to do to work together on your own time and she's going to help you do things outside of the gym," says Ali.
Amanda showed Ali and Mercedes a few workout moves.
"This is something I can totally do. It doesn't mean it's going to be easy or that I'm going to be smiling the whole way, but it's definitely something I'm going to do and I'm going to finish," says Mercedes.
"I think Mercy's going to do great. She has a great attitude. I think first off she has to work on stability and learning how to activate her muscles before she can gain any strength and lose weight from that. Alright now I'm going to show you how to do some basic things with the weights. So hip width right here, bend forward, elbows bend, very nice and extend behind you," says Amanda.
"I have a lot of things riding on this. My family, my health mostly my health. I mean how much more motivation do need than I can die. I can have a heart attack," says Mercedes.
Six weeks later Mercedes met up with Ali for a Live Big Group Hike where she shared the news that she lost 22 pounds already.
Mercedes was nervous about the hike but she faced her fear and accomplished the challenging hike.
"I think this is the toughest workout you've done," says Amanda.
"I'm having a meltdown right now because I just came to the realization that I'm having a beautiful time and my mom and immediate family are not as supportive as they should be, as they could be, and they could be here enjoying a beautiful day in Griffith Park while I'm hiking and they're not here. I don't care if anyone else is happy but myself. I hate crying, I really do. I hide it as much as possible," says Mercedes.
Ali's Big Three:
Number 1: Try it you might like it. Don't be afraid to try new foods. Mercedes and her family did and now a whole new world of healthy foods is open to them. Experiment, you might be surprised by what you find.
Number 2: Let your feelings out. Mercedes did. Sometimes we hold things in until we burst. It's not until we let them out that we begin to heal. Living big starts with letting go.
Number 3: Pace yourself. It takes time to build up to things. Mercy hadn't exercised in years. 2 months later she was hiking. The only way she got there was to start slowly. Don't try to take on too much at once.