Live Big with Ali Vincent Episodes
Live Big 30 Day Challenge: Day 30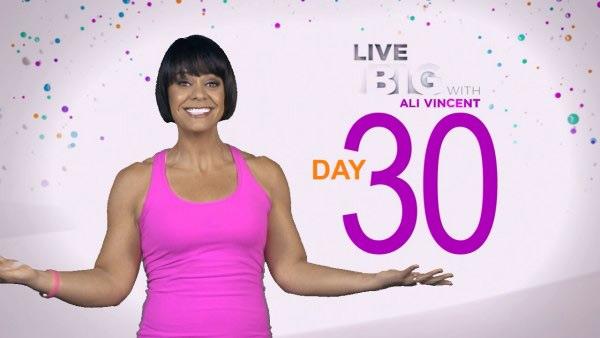 It's day 30 of your Live Big 30 Day Challenge.
This is the last day! You made it all the way through -- which makes you a winner! You are on your way toward Living Big and achieving everything you want to do. This first step was a huge one!
Now, here is Ali's surprise for today. It's your reward day! You know how much Ali believes in rewards. Well, committing to do a Live Big 30 Day Challenge was a huge step. Making it through was an even bigger step. So now, reward yourself! What's something you'd really like to do? A special activity? A day at the spa? Or a little shopping spree? Do something that makes you feel special. So go ahead and splurge! Ali said you can!
Well, this is the official end of the Live Big 30 Day Challenge. But hopefully you'll look at day 30 as day 1 of your next step. Because if you can do this, you can do anything! Live Big!
How did you do on the Live Big 30 Day Challenge? Share your experience with Ali on her Facebook page, facebook.com/officialalivincent, and on her Twitter page,twitter.com/alivincent.
Click here to see a complete list of Ali's Live Big 30 Day Challenge.