Live Big with Ali Vincent Episodes
Live Big 30 Day Challenge: Day 19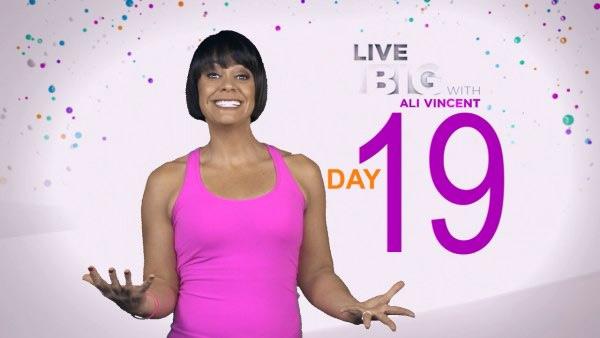 It's day 19 of your Live Big 30 Day Challenge.
Day 19 is back to cardio. But today, we're taking it up to 50 minutes!
Alternate two minutes of walking with two minutes of jogging. Now, this is going to be tough, so within that two minutes of jogging if you feel like you want to quit, don't. But promise yourself that you'll renegotiate as soon as you finish. You can take a little bit longer in your walking break between jogging. So if you feel like you're going to quit, finish the two minutes, then take an extra minute in your walking so it'll become three minutes. It's going to be challenging, but you can do this because you're Living Big!
How are you doing on the Live Big 30 Day Challenge? Share your experience with Ali on her Facebook page, facebook.com/officialalivincent, and on her Twitter page,twitter.com/alivincent.
Click here to see a complete list of Ali's Live Big 30 Day Challenge.