Live Big with Ali Vincent Episodes
Ali Vincent Takes Troublesome Trip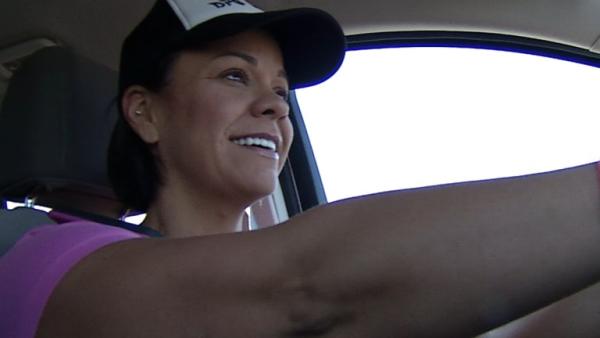 Ali Vincent, the first female to win the Biggest Loser, travels across the country for a speaking engagement. See why Ali panics right before her big presentation in Bluefield, West Virginia. Plus, get an update on Ali's goal to complete 13 half Marathons in 2013.
To celebrate the five years since Ali won on the Biggest Loser, her mom Bette-Sue and her sister Holly join her in Phoenix to see Jillian Michaels "Maximize Your Life Tour." Ali looks back on her experiences with Jillian as a trainer on the Biggest Loser.
"At the end of the day, I did what she told me and it paid off," Ali said.
At the show, Ali and Bette-Sue are immediately recognized. They stop to take pictures and hear stories from their fans.
When Jillian's show is about to begin, Ali doesn't know what to expect but she is certain that Jillian will blow her socks off. Afterwards, Ali is overwhelmed with emotions and even admits that at some points she wanted to cry. Since Ali and Bette-Sue have VIP tickets, they head over to meet with Jillian and snap a photo to commemorate their five-year anniversary.
After a very special day, it's time for Ali to hit the road. Her destination is Bluefield, West Virginia, where she is the keynote speaker for a Healthy Woman event. The trip from Arizona to West Virginia is a long one, including multiple flights and a lengthy late night drive.
The next day starts early and Ali makes a stop at Starbucks for breakfast. Her choice is the Spinach and Feta Breakfast Wrap which comes in at 290 calories. Staying healthy on the road is not easy but Ali works to make the best choices.
Ali finds her way to the Armory, where she is going to be speaking. After getting directions, Ali still has some trouble navigating her way through the back roads of West Virginia. Another quick stop for directions and she finally makes it to the Armory-- but her troubles aren't over yet.
As Ali is setting up, she discovers the AV crew is having some technical difficulties. Ali worries she may not be able to put on her full presentation-- but there is little time to deal with the situation herself. Ali has to go back to the hotel to change and then drive back in time for the Healthy Woman event.
As Ali is stressing out, she almost misses a red light on the way back to the event. "Red light! Red light!" the Live Big photographer yells. Ali slams on the brakes just in time.
Back at the Armory, Ali greets fans and listens to their inspiring stories. Ali shares advice on making the right choices and explains how her fans constantly keep her motivated. But as Ali is meeting her fans, she hears her presentation playing and realizes that it may not be compatible with the equipment belonging to the crew. Ali is horrified, but soon it's show time.
As Ali begins speaking at the Healthy Woman event, she has trouble connecting with the crowd. Even though Ali isn't happy with her presentation, numerous fans come up to her after and tell her how inspiring her talk was.
Ali's road trip isn't over yet. Her next stop is Hollywood! Ali has an interview with OMG Insider! Correspondent Michael Yo. Michael talks to Ali about life after the Biggest Loser and her quest to complete 13 half marathons in 2013.
The Live Big cameras follow Ali and Michael as they walk around the Hollywood backlot. Ali says she could never have imagined that her life would take her to someplace like this.
Ali decides that a great workout would make the perfect ending to this road trip. Ali gets ready to join celebrity trainer Marco Reed's book camp.
Just before the class starts, Ali suddenly realizes she hasn't eaten anything. Ali refuels with a bagel thin and turkey.
At the boot camp, every exercise is 45 seconds, followed by a 15 second rest. Then it's 45 seconds again and rotate. As the workout gets in full effect, Ali breathes harder and harder each round.
With a small break in between, Ali throws up in her mouth, but soon feels better. After a tough workout, Marco says that Ali worked harder than anyone else in the class.
For more information on trainer Marco Reed, visit getbeyondfit.com.
Find Ali on Facebook: facebook.com/officialalivincent
Follow Ali on Twitter: twitter.com/alivincent