Live Big with Ali Vincent Episodes
Ali Vincent Surprises Mom with Aerial Routine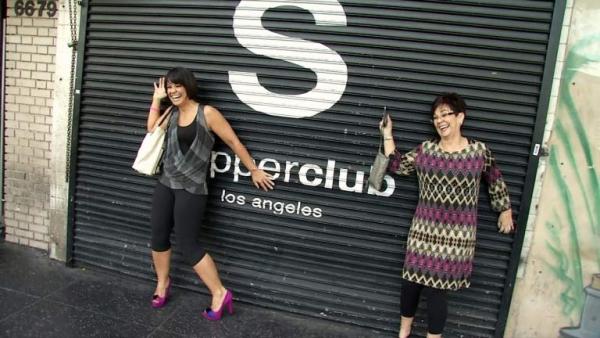 Ali Vincent, the first female to win the Biggest Loser, gets a surprise wake-up call. Then Ali attends a luncheon where she is honored by a group that promotes healthy lifestyles for children. Plus, Ali has a surprise of her own for her mom Bette-Sue, but something goes wrong and Ali ends up with a painful injury.
Ali is in Los Angeles to receive an award from the SOS Mentor organization, a non-profit group that works to improve the health and quality of life of children in the Los Angeles area. It's early in the morning at Ali's hotel before the awards luncheon and Ali has no idea that her mother, Bette-Sue, secretly stayed in the same hotel overnight.
Bette-Sue got up extra early so she could sneak into Ali's hotel room before Ali woke up to surprise her. The Live Big cameras followed Bette-Sue as she quietly crept into Ali's room. Ali was fast asleep but very pleasantly surprised by her mom's wake-up call.
After eating a quick breakfast, taking a shower and getting her hair and makeup done, Ali and her mom are ready to head over to the luncheon.
"That's where it gets a little catchy having my mom around because I can't control her time and know we have to rush," said Ali. "It is particularly important to be on time to an event where you are going to be given an award."
On the way, there is the usual uncertainty over the driving directions, but, of course, Ali and Bette-Sue eventually make it to the restaurant.
"I don't know why we always get lost," said Ali.
Ali makes a small speech during the luncheon and she is honored when she receives the Excellence in Media Award from the SOS Mentor organization.
"SOS is a program that teaches kids how to eat right, how to move," said Ali. "The award to me is such an honor because it is something that I always wanted to do. What inspires me is that it is kids taking control of their own lives and changing it."
Now it's Ali's turn to surprise her mom, but Ali's surprise is going to require a little bit of professional training. Ali heads over to supperclub, The Restaurant in Hollywood where she will receive some instruction on how to perform an aerial routine while hanging from a hammock. Ali plans to surprise her mom with the performance at dinner one night.
"When I saw her my heart just pounded a little bit. This is so exciting, so scary," said Ali.
Ali's trainer is Alayna Stroud, Artistic Director for Syn Circus, the group performing at the supperclub. After stretching out and warming up, Alayna teaches Ali a few different aerial movements.
Ali admitted to being a bit nervous and intimidated when she saw the long hammock hanging from the ceiling, but after Alayna's instruction Ali is able to hang freely in the hammock and do a few basic movements. Ali is now very excited and she can't wait to surprise her mom with her new aerial performance.
"She has such a great attitude and is so smiley and bubbly that I know we are going to have time and the biggest thing with this kind of thing is just to stay positive and keep trying and you will get it at some point," said Alayna.
Bette-Sue knows nothing about the surprise that Ali has in store for her. Bette-Sue just thinks they are going out for a nice dinner at the superclub, but Ali is going to surprise her with the aerial routine that she learned from Alayna.
After they get ready, Ali and her mom head over to the restaurant and it's no surprise that they get lost on the way. After parking the car, Ali realizes she's going to do her aerial performance very soon so she starts stretching in the parking lot.
Bette-Sue thinks Ali is making a fool of herself because she has no clue why Ali would be stretching at this time.
"It hits me that I am going to be performing in a bit and she looks at me like, 'what the hell are you doing,'" said Ali.
Once they head inside the supperclub, Bette-Sue starts wondering what kind of restaurant they are at. There are dancers in small, tight outfits hanging from the ceiling in hammocks and chains.
After they relax for a bit in the restaurant, Ali excuses herself by saying she has to go to the restroom, but she's really going to prepare to do her aerial performance for her mom.
After Ali goes missing for a bit, Bette-Sue thinks Ali is going to miss the show, but mom doesn't know that Ali is the show!
As Bette-Sue wonders where Ali has gone off to, Ali suddenly appears from behind a curtain and walks slowly up to the hammock to begin her performance.
Bette-Sue is happily surprised to see that Ali is about to do an aerial routine.
As the performance continues, Ali has a small accident and hits her toe very hard on the tile floor. But in the spirit of a true performer, Ali keeps going despite the pain.
After a delightful show that leaves Bette-Sue very proud of her daughter, Ali takes some time to talk to her mom about the show.
"I didn't end up breaking my toe but it sure felt like it when I hit the ground," said Ali.
Ali suggests that Bette-Sue should do an aerial routine of her own but Bette-Sue just laughs it off.
For more information:
Find Ali on Facebook: facebook.com/officialalivincent
Follow Ali on Twitter: twitter.com/alivincent