Live Big with Ali Vincent Episodes
Ali Vincent Surprises Mom with Aerial Routine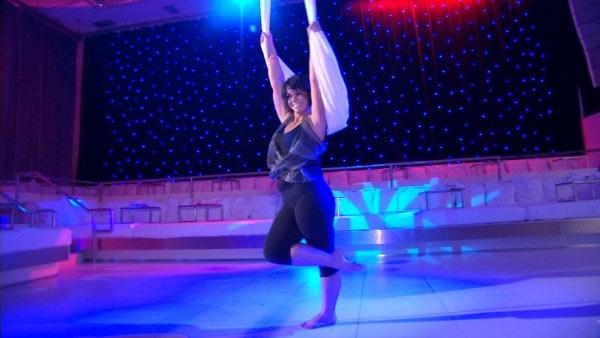 After going through some professional training, Ali Vincent is ready to surprise her mom, Bette-Sue, with an aerial routine during dinner at the superclub in Hollywood.
Ali was surprised when her mom Bette-Sue showed up in Los Angeles to watch Ali receive her award from the SOS Mentor group. Now it's Ali's turn to surprise her mom! She plans to perform an aerial routine while hanging from a hammock.
Ali admitted to being a bit nervous and intimidated when she saw the long hammock hanging from the ceiling, but after Alayna's instruction Ali is able to hang freely in the hammock and do a few basic movements. Ali is now very excited and she can't wait to surprise her mom with her new aerial performance.
"She has such a great attitude and is so smiley and bubbly that I know we are going to have time and the biggest thing with this kind of thing is just to stay positive and keep trying and you will get it at some point," said Alayna.
Bette-Sue knows nothing about the surprise that Ali has in store for her. Bette-Sue just thinks they are going out for a nice dinner at the superclub, but Ali is going to surprise her with the aerial routine that she learned from Alayna.
After they get ready, Ali and her mom head over to the restaurant and it's no surprise that they get lost on the way. After parking the car, Ali realizes she's going to do her aerial performance very soon so she starts stretching in the parking lot.
Bette-Sue thinks Ali is making a fool of herself because she has no clue why Ali would be stretching at this time.
"It hits me that I am going to be performing in a bit and she looks at me like, 'what the hell are you doing,'" said Ali.
Once they head inside the supperclub, Bette-Sue starts wondering what kind of restaurant they are at. There are dancers in small, tight outfits hanging from the ceiling in hammocks and chains.
After they relax for a bit in the restaurant, Ali excuses herself by saying she has to go to the restroom, but she's really going to prepare to do her aerial performance for her mom.
After Ali goes missing for a bit, Bette-Sue thinks Ali is going to miss the show, but mom doesn't know that Ali is the show!
As Bette-Sue wonders where Ali has gone off to, Ali suddenly appears from behind a curtain and walks slowly up to the hammock to begin her performance.
Bette-Sue is happily surprised to see that Ali is about to do an aerial routine.
As the performance continues, Ali has a small accident and hits her toe very hard on the tile floor. But in the spirit of a true performer, Ali keeps going despite the pain.
After a delightful show that leaves Bette-Sue very proud of her daughter, Ali takes some time to talk to her mom about the show.
"I didn't end up breaking my toe but it sure felt like it when I hit the ground," said Ali.
Ali suggests that Bette-Sue should do an aerial routine of her own but Bette-Sue just laughs it off.
For more information:
Find Ali on Facebook: facebook.com/officialalivincent
Follow Ali on Twitter: twitter.com/alivincent