Live Big with Ali Vincent Episodes
Ali Vincent, Mom Reminisce About Bad Eating Habits at Restaurant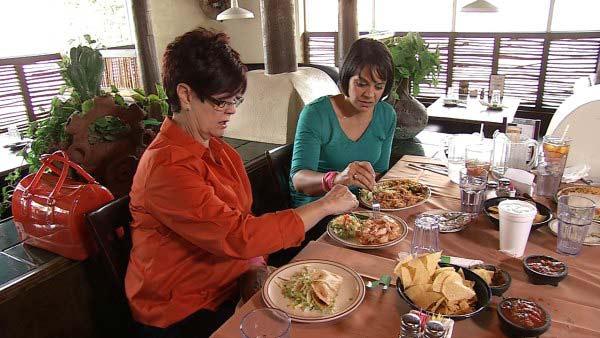 After Ali Vincent and her mother make up after an emotional argument, they head to one of their favorite Mexican restaurants in Arizona.
Ali is exhausted from fighting with her mom. And to make matters worse, she sees from a distance the Live Big producer consoling Bette-Sue with a hug. As Bette-Sue is feeling cared about, Ali sees it as the Live Big producer taking sides.
"I felt like he was taking her side," said Ali.
Now that Ali's feelings are hurt, Bette-Sue reveals the truth to why she believes Ali was cast for the Biggest Loser. She says Ali was picked because she's beautiful.
As the Live Big producer tells Ali what her mother just said, Ali is in shock that her mother actually said something nice about her. Ali has never heard Bette-Sue's true feelings about the casting process so she becomes overwhelmed with joy.
As Ali is crying, the only thing she wants to do in this moment is find her mom and give her a big hug. Now that Ali and Bette-Sue resolve their differences, they head over to their favorite Mexican Restaurant Serrano's.
Before being on the Biggest Loser, Ali and Bette-Sue over ate and never considered calories. Looking back on how they used to eat, they both realize how far along they've come. Today, Ali and Bette-Sue enjoy a healthier meal at their favorite Mexican restaurant Serrano's by substituting the high calorie foods and getting smaller portion sizes.
"Before the Biggest Loser I never considered calories. I knew that I wasn't making the best choices and that I would over eat," said Ali. "I think that being aware of what calories were made a big difference. It was all about over indulgence."
"I didn't think about what I ate," said Bette-Sue. "I loved high in calories things."
As Ali finishes her meal, she prepares for her surprise interview with her Biggest Loser trainer, Jillian Michaels.
Ali Vincent is doing a satellite interview with Jillian but Jillian thinks she's talking to a Live Big producer, not Ali. After asking her several questions, Ali finally reveals herself to Jillian and let's her know that she will be at Jillian's Maximize Your Life Tour stop in Phoenix.
For more information:
Find Ali on Facebook: facebook.com/officialalivincent
Follow Ali on Twitter: twitter.com/alivincent