Live Big with Ali Vincent Episodes
Ali Vincent, Mom Get into Heated Argument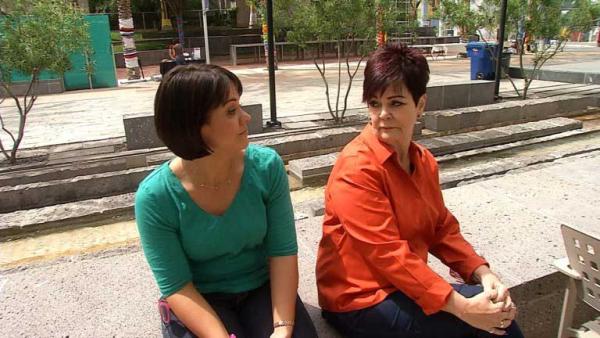 Ali Vincent, the first female winner of the Biggest Loser, takes a contentious trip down memory lane with her mother Bette-Sue but things escalate quickly. See if they can makeup just in time for a special reunion with their Biggest Loser trainer, Jillian Michaels.
It is Ali's five-year anniversary from winning the Biggest Loser so Ali and her mom Bette-Sue revisit where they stood in line for their very first casting call, The Mesa Arts Center in Arizona. As they're reliving the experience, Ali and Bette-Sue fight over unfinished business.
Ali believes that her mom still thinks the only reason they got on the Biggest Loser was because of Bette-Sue.
"She thinks that the only reason we were on the Biggest Loser was because of her, plain and simple," said Ali.
"I do think I am witty, I do think I am entertaining," said Bette-Sue.
Bette-Sue disagrees with Ali's statement as she explains that she never wanted to be on the show in the first place. They both get loud with each other and a Live Big producer is forced to step in separating the two.
Now what seems to be a great day to reminisce about their big achievement turns out to be an unforgettable mother-daughter fight.
Ali Vincent can't believe that she's asked to leave by a Live Big Producer. As Ali walks away, Bette-Sue starts to cry over their fight.
"I don't think you want to put this on camera. She is only open to her version. She never gives anyone any consideration and then she always want to say something that I don't feel good about anyway and put that on blast," said Bette-Sue.
"It isn't fun to have your mom have those kinds of opinions about you," said Ali.
"I just try to have fun and she has to correct me all the time. Anything I say is stupid. Anything I say is wrong. I feel really hurt when she is least kind to me," said Bette-Sue.
By Bette-Sue venting to the Live Big executive producer, Ali feels like she's the one in trouble for starting the fight. She's hurt and angry at the situation, especially on how it's being handled. Since Bette-Sue is getting all of the attention, Ali states that she doesn't want to do a show with her mom because it stresses her out.
"If I have to do this with my mom and this is how it is going to continue to be. I am not doing it," said Ali.
They both admit that they drive each other crazy, but regardless they have unconditional love for each other. However, Ali confesses that she's constantly worrying about her mom because she's so reckless.
When Ali looks back at her past, she realizes that the roles have switched and she's now mothering her mother Bette-Sue.
Bette-Sue sympathizes with Ali's feelings since she wasn't always there for Ali growing up due to her busy work schedule.
Ali is exhausted from fighting with her mom. And to make matters worse, she sees from a distance the Live Big producer consoling Bette-Sue with a hug. As Bette-Sue is feeling cared about, Ali sees it as the Live Big producer taking sides.
"I felt like he was taking her side," said Ali.
Now that Ali's feelings are hurt, Bette-Sue reveals the truth to why she believes Ali was cast for the Biggest Loser. She says Ali was picked because she's beautiful.
As the Live Big producer tells Ali what her mother just said, Ali is in shock that her mother actually said something nice about her. Ali has never heard Bette-Sue's true feelings about the casting process so she becomes overwhelmed with joy.
As Ali is crying, the only thing she wants to do in this moment is find her mom and give her a big hug. Now that Ali and Bette-Sue resolve their differences, they head over to their favorite Mexican Restaurant Serrano's.
Before being on the Biggest Loser, Ali and Bette-Sue over ate and never considered calories. Looking back on how they used to eat, they both realize how far along they've come. Today, Ali and Bette-Sue enjoy a healthier meal at their favorite Mexican restaurant Serrano's by substituting the high calorie foods and getting smaller portion sizes.
"Before the Biggest Loser I never considered calories. I knew that I wasn't making the best choices and that I would over eat," said Ali. "I think that being aware of what calories were made a big difference. It was all about over indulgence."
"I didn't think about what I ate," said Bette-Sue. "I loved high in calories things."
As Ali finishes her meal, she prepares for her surprise interview with her Biggest Loser trainer, Jillian Michaels.
Ali Vincent is doing a satellite interview with Jillian but Jillian thinks she's talking to a Live Big producer, not Ali. After asking her several questions, Ali finally reveals herself to Jillian and let's her know that she will be at Jillian's Maximize Your Life Tour stop in Phoenix.
For more information:
Find Ali on Facebook: facebook.com/officialalivincent
Follow Ali on Twitter: twitter.com/alivincent