Live Big with Ali Vincent Episodes
Ali Vincent Helps 410-Pound Woman Get Healthy, Lose Weight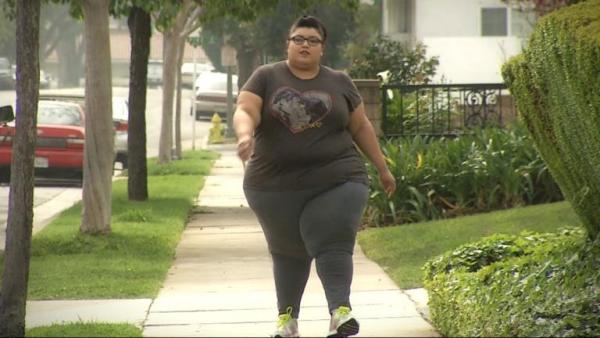 At 410 pounds, Mercedes Castro Miller is tired of playing 'the chunky but funky chick' who could still hang with the thin crowd. With Ali Vincent's help, Mercedes is hoping to get healthy -- not only for herself but for her two daughters -- and start 'living big!'
Mercedes Castro Miller, a 30-year-old, married mother of two, has been overweight her entire life. When she was younger, she was hurt by her father's rejection because of her size.
"He threw up and I was like what's the matter? He said seeing you so unhealthy makes me sick," says Mercedes.
Now, she is still being put down because of her size but now Mercedes is ready to 'live big!'
"It's like an emotional roller coaster. There's always some kind of roadblock that will remind you of this weight -- 'Oh, I can't go on that ride or I can't fit on that door.' I went to Disneyland the other day with my family and I could not fit through those turnstiles at all. And I had to get that disabled pass so that I could go through the other side and that was a big rock bottom," says Mercy.
Mercedes' husband, Ryan, isn't the healthiest eater. Ali suggested that she talk to him about getting onboard with her healthier lifestyle because it is important to have partner on the journey.
"I come from a family of farm people they eat fried food, you know everything is fried. Vegetables aren't really my friend. I'm not the healthiest eater," says Ryan.
Recently Mercedes has stopped doing the things she loves so Ali asked her to make a list of things she would like to accomplish if she lost the weight.
"It's sad because I can't live the life that I'm telling her to live with [my daughter]. I can't do it with her. She wants me to go on roller coasters with her. She wants me to go for a jog. She wants me to all those things and I can't do them with her. See I'm going to cry and I don't want to cry. I want to go on fun dates with my husband. We never really had a fancy honeymoon but I mean truth inside I didn't want to do that. I didn't want to you know get on a plane or anything because I don't fit on one," says Mercedes.
Mercedes hopes to go on a honeymoon with her husband and reconnect with her father after she loses the weight.
"I want to see my dad again. I didn't talk to him for a long time. His biggest issue was always my weight. My parents divorced when I was five and I think when I was around 9 or 10, I wanted to go see him and my mom put me on a plane to go see him. I was expecting a very loving dad and running into him and, 'Hi, Dad. Ya know, I miss you.' The first thing he says is, 'Damn girl, you're fat.' I didn't get a hug. I didn't get I miss you. I didn't get anything. I got you're going on a diet. I haven't talked to him since," recalls Mercedes.
Ali showed her how to cook healthier meals, including turkey burgers and stuffed peppers.
Mercedes was also ready to start a workout program but she needed to see a doctor for clearance.
"She's got 52.6% fat. That's got to be one of the highest I've seen. Mercy's EKG shows that she has some left ventricular strain. Her big muscle, her heart is working at its maximum capacity. If she gets to be around 40 years old, she's going to be in congestive heart failure. She needs to ease into her exercise program and we really need to focus in on her diet," says Dr. Liu, weight loss specialist.
Mercedes used to do spinning, cardio kick boxing and swimming but she hasn't worked out in years. Ali hopes to change that. She introduced her to her new personal trainer, Amanda.
"You guys are going to figure out what to do to work together on your own time and she's going to help you do things outside of the gym," says Ali.
Amanda showed Ali and Mercedes a few workout moves.
"This is something I can totally do. It doesn't mean it's going to be easy or that I'm going to be smiling the whole way, but it's definitely something I'm going to do and I'm going to finish," says Mercedes.
"I think Mercy's going to do great. She has a great attitude. I think first off she has to work on stability and learning how to activate her muscles before she can gain any strength and lose weight from that. Alright now I'm going to show you how to do some basic things with the weights. So hip width right here, bend forward, elbows bend, very nice and extend behind you," says Amanda.
"I have a lot of things riding on this -- my family, my health mostly my health. I mean how much more motivation do need than I can die. I can have a heart attack," says Mercedes.
Six weeks later, Mercedes met up with Ali for a Live Big Group Hike where she shared the news that she lost 22 pounds already.
Mercedes was nervous about the hike but she faced her fear and accomplished the challenge.
"I think this is the toughest workout you've done," says Amanda.
"I'm having a meltdown right now because I just came to the realization that I'm having a beautiful time and my mom and immediate family are not as supportive as they should be, as they could be, and they could be here enjoying a beautiful day in Griffith Park while I'm hiking and they're not here. I don't care if anyone else is happy but myself. I hate crying, I really do. I hide it as much as possible," says Mercedes.
Ali's Big Three:
Number 1: Try it you might like it. Don't be afraid to try new foods. Mercedes and her family did and now a whole new world of healthy foods is open to them. Experiment, you might be surprised by what you find.
Number 2: Let your feelings out. Mercedes did. Sometimes we hold things in until we burst. It's not until we let them out that we begin to heal. Living big starts with letting go.
Number 3: Pace yourself. It takes time to build up to things. Mercy hadn't exercised in years. 2 months later she was hiking. The only way she got there was to start slowly. Don't try to take on too much at once.