Live Big with Ali Vincent Episodes
Ali Finishes The Race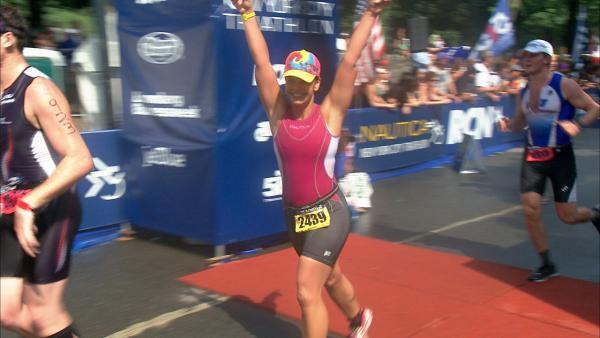 Ali Vincent has come a long way since first appearing on 'The Biggest Loser.' She's in New York City and competing in the 11th Annual Nautica NYC Triathlon. Watch as Ali finishes the race, and gets some advice from a few familiar faces.
After a 1.5 kilometer swim, a grueling 40 kilometer bike race, and a 10 kilometer run, Ali Vincent triumphantly crossed the finish line of the 11th Annual Nautica Triathlon in three hours and 28 minutes.
"Right now, I am relieved," said Ali. "This morning I was really nervous. Throughout the race, I was thinking about how glad I was that I was scared, because if I wasn't it wouldn't be worth it."
For Ali, the high of finishing was short lived.
"I think I'm going to puke," said Ali.
Nausea aside, Ali knows that she's accomplished something big.
"I think the biggest thing, when I feel I don't have anything else, is to remind myself that I am stronger than I give myself credit for," said Ali. "All I have to do is continue to put one step in front of the other, and as long as I finish, I win big."
That praise is shared with 'Biggest Loser' season 11 winner Olivia Ward and her sister, Hannah Curlee.
"You paved the way for all of us," said Olivia. "You showed us that we can do it."
Ali's big three from her triathlon story are:
1) You can do this!
2) Don't forget about exercise.
3) Make sure you know what you're eating.
For more information about the 11th Annual Nautica NYC Triathlonvisit www.nyctri.com.