Live Big with Ali Vincent Episodes
A Live Big Road Trip Turns into Trouble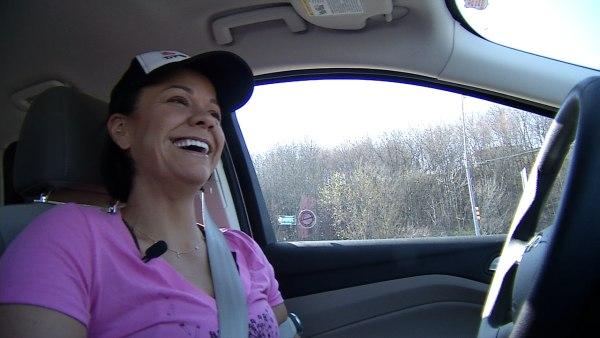 It's been five years since Ali Vincent won the Biggest Loser. To celebrate Ali's achievement, her mom Bette-Sue and her sister Holly join her in Phoenix to see Jillian Michaels' ''Maximize Your Life Tour.'' The road trip brings its share of problems.
But first, Ali looks back on her experiences with Jillian as a trainer on the Biggest Loser.
"At the end of the day, I did what she told me and it paid off," Ali said.
At the show, Ali and Bette-Sue are immediately recognized. They stop to take pictures and hear fans stories.
As Jillian's show is about to begin, Ali doesn't know what to expect but she is certain that Jillian will blow her socks off. Afterwards, Ali is overwhelmed with emotions and even admits that at some points she wanted to cry. Since Ali and Bette-Sue have VIP tickets, they head over to meet with Jillian and snap a photo to commemorate their five year anniversary.
After a very special day, it's time for Ali to hit the road. Her destination is Bluefield, West Virginia where she is the keynote speaker for a Healthy Woman Event. The trip from Arizona to West Virginia is a long one, including multiple flights and a lengthy late night drive.
The next day starts early and Ali makes a stop at Starbucks for breakfast. Her choice is the Spinach and Feta Breakfast Wrap which comes in at 290 calories. Staying healthy on the road is not easy but Ali works to make the best choices.
Now, Ali must find her way to the Armory, where she is going to be speaking. After getting directions, Ali still has some trouble navigating her way through the back roads of West Virginia. Another quick stop for directions and she finally makes it to the Armory-- but her troubles aren't over yet.
As Ali is setting up, she discovers the AV crew is having some technical difficulties. Ali worries she may not be able to put on her full presentation.
Find Ali on Facebook: facebook.com/officialalivincent
Follow Ali on Twitter: twitter.com/alivincent