Recipes
Veggie Edamame Burger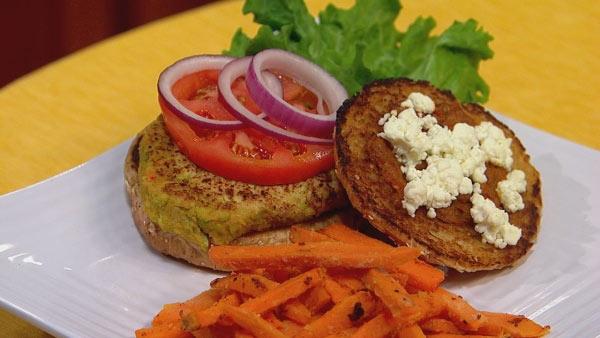 Servings: 6
Difficulty: Moderate
Time:
Provided by: Tom and Eddie's
1/4 cup Bulgar wheat
1/2 c cold water
1/2 tablespoon salt
1 tablespoon pickled ginger
10 oz thawed edamame
4 teaspoons lemon juice
2/3 cup shredded carrot
4 tsp sweet cooking wine
1 1/4 panko breadcrumbs
1/2 cup egg whites
2 tsp hot sauce
2 tsp soy sauce
Directions
1. Bring water and salt to a boil. Add bulgar and cook on low for 5 minutes covered. Let sit covered for 15 minutes.
2. While bulgar is cooking, grind the ginger and edamame together in the food processor until the beans are minced.
3. Using spatula, place the edamame bean/ginger mixture in the mixing bowl.
4. Add lemon juice, carrots, wine, panko, egg whites, hot sauce and soy sauce to the edamame bean mixture.
5. Add the bulgar to the edamame mixture and mix on low in the mixer until uniform.
6. Place wax paper on scale. Measure out 4 ounces on the scale. Form into ball. Place on tray and cover with plastic wrap.
7. Store in refrigerator or freezer.
8. Lightly oil and heat skillet or griddle to 375 degree oven.
9. Place edamame ball on skillet or griddle and press to approximately half inch thick.
10. Cook for 2 1/2 minutes and then turn.
11. Season with Salt and pepper.
12. Remove from skillet or griddle after 5 minutes total.
13. Toast multigrain hamburger bun and place burger on bun.
For more information on Tom and Eddie and their burger restaurant, check out www.tomandeddies.com.