Recipes
Tuscan Grilled Salmon with Grilled Asparagus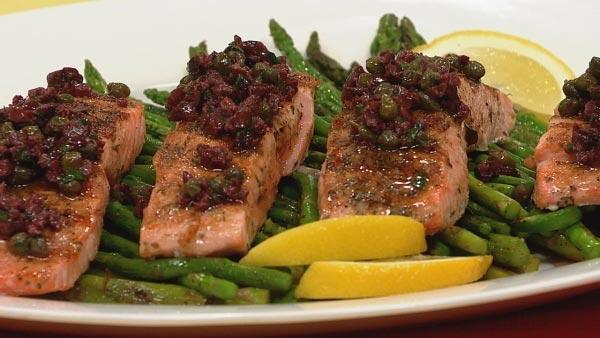 Servings: 4
Difficulty: Easy
Time:
Provided by: Chris Koetke
4 to 6 oz pieces of boneless and skinless salmon fillet
1 1/2 teaspoons Italian herb blend
1/4 teaspoon ground coriander
1/2 teaspoon ground fennel (may need to grind your own in a spice grinder)
1/2 teaspoon salt
3/4 teaspoon ground black pepper
2 bunches thin asparagus, with the bottom 2 inches trimmed off
2 garlic cloves, minced
5 Tablespoons olive oil
1/3 cup chopped kalamata olives
1 Tablespoon small capers
2 Tablespoons minced parsley (Italian preferably)
2 1/2 teaspoons lemon juice
Directions
1. Combine Italian herb blend, coriander, fennel, 1/2 teaspoon black pepper, and 1/4 teaspoon salt in a bowl. Sprinkle on the salmon fillets.
2. Rub asparagus with 2 Tablespoons olive oil, 1/4 teaspoon of salt, 1/4 teaspoon of black pepper and garlic.
3. Combine 2 Tablespoons olive oil, kalamata olives, capers, parsley, and lemon juice. Reserve.
4. Rub salmon with 1 Tablespoon of olive oil. Gill over medium high heat until the salmon is moist but cooked (about 3-4 minutes per side depending on the thickness of the salmon). At the same time, grill the asparagus until it is al dente.
5. Place asparagus on the bottom of a platter. Top with salmon and then the olive/caper mixture.