Recipes
Tuna-Stuffed Roasted Red Pepper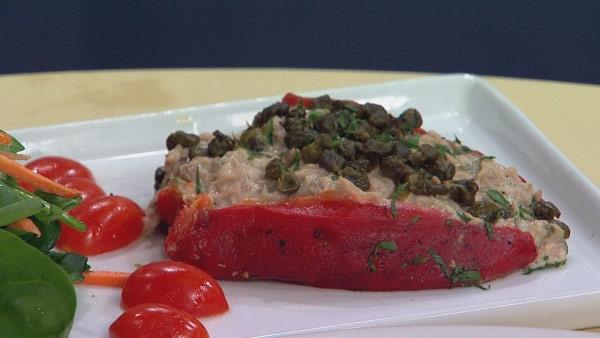 1 medium size or large red bell pepper
1 garlic clove
1 anchovy fillet, soaked in water to cover for 10 to 15 minutes, then drained, rinsed and patted dry (optional but recommended)
1 teaspoon capers, rinsed
1 5-oz. can water-packed tuna or olive oil-packed tuna, to taste
1 tablespoon fresh lemon juice
1 tablespoon extra virgin olive oil (omit if using olive oil-packed tuna)
1 tablespoon plain low-fat yogurt (more to taste)
1 shallot, minced
1 tablespoon dijion mustard
Freshly ground black pepper
1 tablespoon chopped fresh parsley
Directions
1. Roast the pepper directly over a gas burner or under the broiler, turn until charred. Remove from the heat, and place in a bowl. Cover tightly, and allow to cool.
2. While you're waiting for the pepper to cool, make the tuna filling. Pulse the garlic, anchovy, capers, and shallots in a food processor until it forms a paste. In a bowl, break up the tuna with a fork, then stir in the garlic mixture, the lemon juice, mustard, olive oil and the yogurt. Add more yogurt or olive oil if the mixture seems dry. Season to taste with pepper (it should not need salt), and stir in the parsley.
3. When the pepper is cool enough to handle, peel and discard the blackened skin, rinse briefly and pat dry. Cut away the top, then cut or pull apart the pepper into thirds. Remove seeds and membranes. Lay the pepper pieces on a plate. Season with a little salt and pepper if desired, and fill with the tuna mixture. Serve with spinach salad (Click here for recipe).