Recipes
Spaghetti Frittata With Tomato Poblano Sauce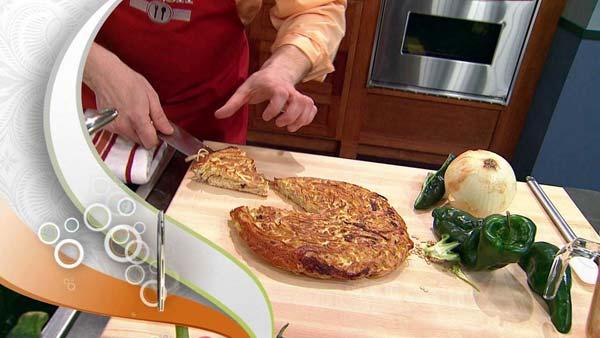 Servings: 6
Provided by: Chris Koetke
1 Tablespoon olive oil
2 cloves garlic, minced
3 oz. low-fat smoked ham, thinly sliced and cut into strips
2 1/2 cups cooked whole wheat spaghetti (8 oz)
5 egg whites
3 eggs
2 pinches each salt and black pepper
1/2 cup grated parmesan cheese (about 1 1/4 oz)
Tomato poblano sauce (see below)
Directions
1. In a 10 inch non-stick skillet, saute garlic in olive oil for 30 seconds over high heat.
2. Add ham and continue to cook for 1 more minute, stirring frequently to be sure that the garlic does not burn.
3. Add pasta and continue to saute, stirring frequently.
4. In a separate bowl, whisk together the eggs and egg whites. Add black pepper and salt.
5. Pour the eggs over the pasta in the saute pan. Add cheese. Stir lightly until the eggs begin to cook on the bottom of the pan. Cover and reduce heat to moderate. Cook for about 3 minutes or until the bottom is lightly browned and the eggs have started to solidify. Remove the lid and place a plate on top of the eggs. Holding the plate firmly to the top of the saute pan, flip the frittata onto the plate. Slide the frittata back into the pan to continue cooking what was previously the top. Cook for 2-3 more minutes until the eggs are fully cooked.
6. Slide onto a plate and serve with tomato poblano sauce.
Tomato Poblano Sauce
1 1/2 Tablespoons olive oil
2 poblano chilies, seeded and diced
1/2 cup diced onion
1 15 oz can Marinara sauce
1. In a saucepan over moderate heat, cook the poblanos and onions in olive oil until soft. Stir frequently and cook for about 10 minutes.
2. Add Marinara sauce and simmer for 15 minutes covered over low heat.
Nutrition Facts
Amount per Serving
Calories 342
Total Fat 11g
Saturated Fat 3g
Cholesterol 118mg
Total Carbohydrates 43g
Fiber 5g
Protein 20g
Sodium 752mg