Recipes
Smoked Kielbasa with Warm Potato Salad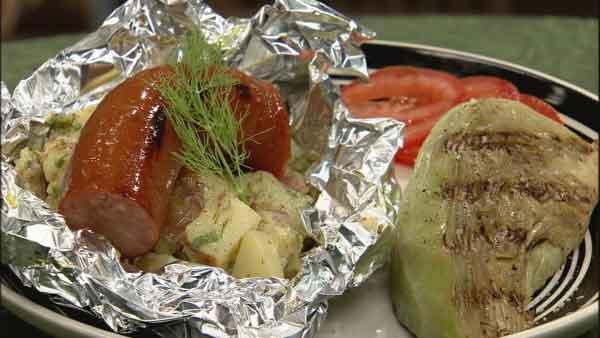 Servings: 4
Difficulty: Easy
Time:
Provided by: Chris Koetke
1 1/2 lbs. smoked Kielbasa (or other smoked sausage), cut into 4 pieces
2 lbs. small red-skinned potato
1/2 large head green cabbage, cut into quarters by cutting through the core
3 tablespoons red wine vinegar
1/2 teaspoon salt
1/4 teaspoon ground black pepper
4 teaspoons whole grain mustard
2 teaspoons prepared horseradish
3 green onions, minced
1 tablespoon finely chopped fresh dill
7 tablespoons extra virgin olive oil
Directions
1. Cover potatoes with salted water (about 1 teaspoon of salt) and bring to a boil. Reduce to a simmer and cook until the potatoes are just tender when pierced with a fork (about 30 minutes). Drain and let cool. Cut into bite-sized pieces. Do not skin the potatoes.
2. In the same boiling water, cook the cabbage until just tender. Try to keep them together so that they do not fall apart.
3. In a separate bowl, mix vinegar, salt, pepper, mustard, horseradish, green onion, and dill. Drizzle 5 tablespoons olive oil into this mixture while mixing continuously. Add potatoes and toss gently. Taste for seasoning.
4. Place the potato salad on 4 pieces of heavy aluminum foil. Fold the sheet over to keep the potato salad from running out, but not completely sealing the top. The aluminum package should be fairly flat.
5. Place the aluminum foil package on a medium hot grill. Let cook for about 15 minutes or until warmed through. Meanwhile, brush the cabbage with remaining 2 tablespoons olive oil and season lightly with additional salt and black pepper. Place the cabbages on the grill and cook until heated through and lightly charred. Also, at the same time, place the sausages on the grill and cook until heated through.
6. Transfer the packets of potato salad each to a plate. Top with a piece of cabbage and sausage and serve with additional mustard and prepared horseradish.