Recipes
Ricotta Cheesecake with Minted Oranges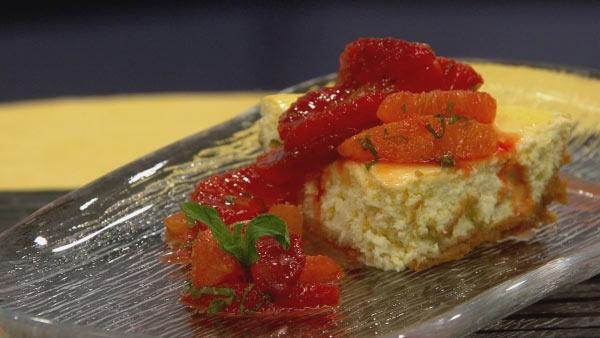 Difficulty: Easy
Time:
Provided by: Melissa Trimmer
1 8oz package of cream cheese
1 15oz package of fat free ricotta cheese
1/2 cup organic granulated sugar
2 eggs
Zest of one orange (using a microplane to grate the zest)
Pinch of sea salt
1tsp vanilla extract (not imitation)
1 pre-made 9in graham cracker pie shell
Directions
1. Pre-heat the oven to 300F.
2. In a stand mixer with the paddle attachment, mix the cream cheese, sugar, and orange zest until creamy and smooth.
3. Add the ricotta and mix until no lumps remain, scraping the bowl often.
4. Add the eggs, vanilla, and salt, mix until no lumps remain.
5. Place the pre-made crust on a baking sheet and pour the batter in, smoothing the top.
6. Bake at 300F until set all the way across and lightly browned around 45 minutes.
7. Remove from oven and let cool to room temp, then chill to serve later or serve at room temp
For the topping:
2 blood oranges
2 cara cara or Satsuma oranges
1TBL fresh mint leaves
2TBL apricot jam
1/2 tsp orange liqueur (optional)
1. Using a very sharp paring knife, peel and segment the oranges.
2. Chiffonade (cut into very small strips) the mint.
3. In a bowl, whisk the orange liqueur if using and the jam, add the oranges and mint, stir well to coat.
To serve: Place a slice of cheesecake on each plate, top with a heap of minted oranges, enjoy!
For more information, check out www.c-houserestaurant.com.