Recipes
Portobello Mushroom Burger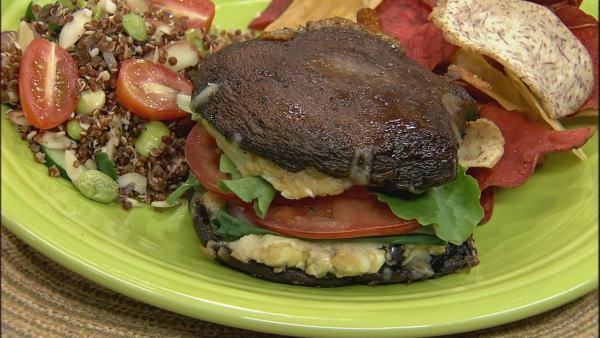 Servings: 2
Difficulty: easy
Time:
Provided by: Chef Chris Koetke
4 very large portabello caps (about 1 lb. total)
2 Tablespoons olive oil
1/2 teaspoon salt
1/4 teaspoon ground black pepper
4 oz. (1/2 cup) hummus
1/4 cup thinly sliced kalamata olives
6 Tablespoons crumbled feta
1/2 grated mozzarella
6 large fresh basil leaves
1 medium tomato, sliced into 1/4-inch slices
Lettuce
Thinly sliced red onion
Directions
1. Rub the portabello caps with olive oil on both sides and then season them on both sides with salt and pepper.
2. Place them gill side down on a baking sheet and place in a 400 F oven for 10 minutes. After 10 minutes, turn them over and continue cooking for another 10 minutes.
3. Meanwhile, mix together the hummus, olives, and feta.
4. Remove the baking sheet from the oven and spread each of the portabellos with the hummus mixture on the gill side. Sprinkle them with the mozzarella cheese and put them back in the oven for 10 minutes.
5. Place one mushroom cap on each plate. Top with basil, tomato, lettuce, and red onions. Carefully flip another portabello cap on top of the "sandwich" and press down lightly.
6. If you want to eat it like a sandwich, it will be necessary to wait for 5+ minutes for the mushrooms to cool. Otherwise, dig in while it is all hot with a knife and fork!