Recipes
Pesto Pizza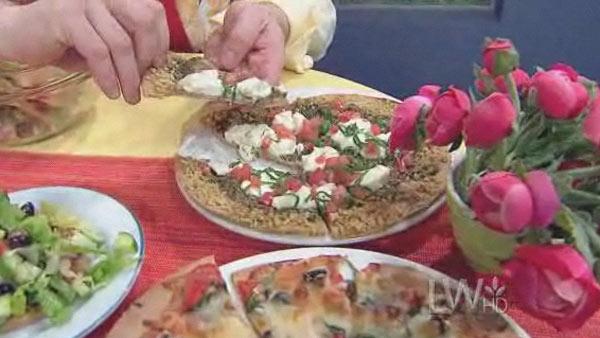 Servings: 3
Provided by: Chris Koetke
3/4 cup skim ricotta cheese
2-3 tbsp cornmeal
6 ounces refrigerated whole wheat pizza dough (buy from bakery section of grocer's)
1/4 cup prepared pesto sauce
1/4 cup of finely-chopped walnuts
1/2 cup diced tomatoes
2 tbsp fresh basil, chopped
Directions
1. Preheat oven to 425 degrees. While oven is heating, drain ricotta well. Either place over a sieve and press down with a spoon, or wrap in cheesecloth to release moisture.
2. Lightly sprinkle a cookie sheet with cornmeal. Roll out pizza dough to a 10-inch circle and transfer to prepare baking sheet.
3. Spread pesto sauce across unbaked pizza crust, leaving a 1-inch border around all sides.
4. Place spoonfuls of drained ricotta cheese evenly across the pizza.
5. Sprinkle walnuts on the outside perimeter of the pizza, in the inch of space between the edge of the pesto sauce and the edge of the dough.
6. Bake pizza until crust is golden brown and crisp, about 12 minutes. Transfer pizza to cutting board, cut into 2-inch squares and serve.
Nutrition Facts:
Amount per Serving
Calories 438
Total Fat 26 g
Saturated Fat 7.42 g
Total Carbohydrates 39.84 g
Fiber 2.66 g
Protein 19.33 g
Sodium 676 mg