Recipes
Onion, Potato, Spinach and Smoked Sausage Soup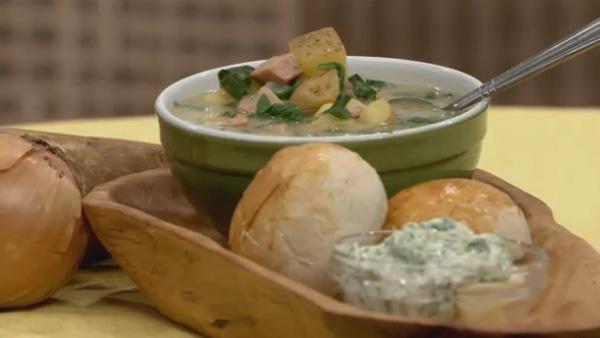 Servings: 10-12
Difficulty: Moderate
Time:
3 cups diced onions
3 Tablespoons butter
3 Tablespoons flour
2 lbs Yukon Gold potatoes, washed and diced (do not peel)
2 qts. low-sodium chicken broth
1 bay leaf
1 teaspoon dried thyme leaf
1/2 teaspoon ground black pepper
12 oz. smoked sausage, diced
10 oz. baby spinach, roughly chopped
1/4 cup minced green onion
Directions
1. In a large sauce pot over moderate heat, saute onions in butter until very soft (about 10-15 minutes), stirring frequently. Add flour and cook for 3 more minutes.
2. Add potatoes, broth, bay leaf, thyme, and black pepper. Bring to a boil, reduce heat to a simmer and cook until the potatoes are very soft (about 30 minutes).
3. Add sausage. Continue simmering for 5 more minutes. Stir in spinach and green onion, taste for seasoning, simmer for another minute, and serve.