Recipes
Latin Potato Salad with Avocado, Mango and Chicken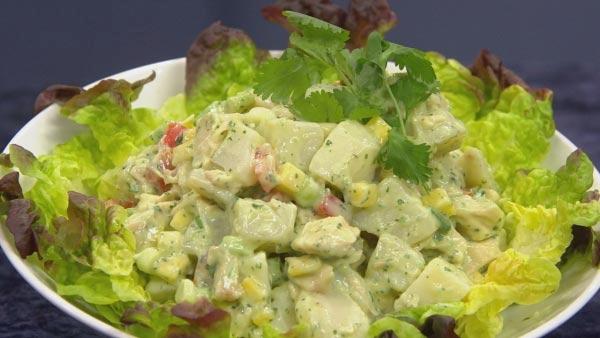 Difficulty: Easy
Time:
Provided by: Chris Koetke
4 cups red boiling potatoes skin-on and diced
1/2 cup celery, diced
3 Tablespoons scallions, diced
1 mango, diced
1/2 cup diced red pepper
1 lb. cooked diced chicken
1/4 cup cilantro, chopped
Avocado buttermilk dressing
Directions
1. Cover potatoes in cold, lightly salted water. Bring to a boil, reduce heat and simmer until soft. Strain potatoes and run under cold water to chill.
2. In a bowl, combine all ingredients including the cold potatoes. Serve immediately or let marinate in the refrigerator for several hours before serving.
Avocado Buttermilk Dressing:
1 cup buttermilk
1/4 cup lemon juice
1 ripe avocado, skin and pit removed
3 Tablespoons lime juice
1 minced jalapeno chile, some of the veins and seeds removed (for a spicier dressing, you can leave in all the veins and seeds)
1/2 teaspoon Cumin powder
1/4 cup olive oil
1 teaspoon salt
1. To prepare the dressing, place all ingredients in a blender and process until smooth.