Recipes
Kulfi with Fresh Mango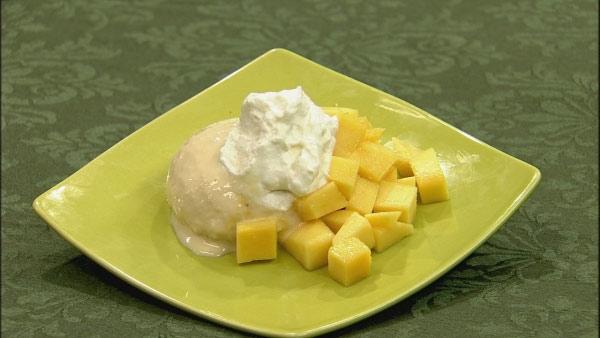 Servings: 4
Difficulty: Easy
Time:
Provided by: Chef Chris Koetke
1 quart (4 cups) whole milk
3 pistils saffron
1/4 cup and 2 Tablespoons granulated sugar
1/8 teaspoon ground cardamom
2 mangos, peeled and diced
Directions
1. In a saute pan, combine milk and saffron. Bring to a boil, and then reduce to a slow boil. Continue cooking and stirring for 20-30 minutes until the milk has reduced to 1 1/2 cups milk. During this time, it is very important to scrape the bottom of the pan often. When it is all reduced, there will be solid pieces of milk in the liquid, which is ideal.
2. Add sugar and cardamom. Stir until dissolved.
3. Pour into individual custard cups. Let cool to room temperature, then place in freezer for at least 12 hours.
4. To serve kulfi, dip custard cups in warm water to unmold onto a small plate. Serve with diced mango around the kulfi.