Recipes
Easy Kale Salad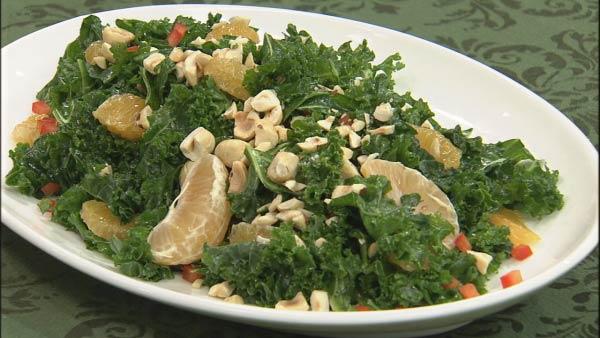 Servings: 4
Difficulty: Easy
Time:
Provided by: Chris Koetke
16 oz. curly kale
1 tablespoon olive oil
1 tablespoon lemon juice
1 teaspoon salt
4 clementine's, peeled and segmented (Be sure to inspect for seeds. If you see a see, remove it with the tip of a paring knife.)
1 cup toasted hazelnuts, roughly chopped*
Directions
Dressing:
3 tablespoons olive oil
2 tablespoons lemon juice
2 tablespoons honey
*To toast whole hazelnuts, place them on a cookie sheet and bake in the oven for 5-8 minutes or until they start to smell toasted and the skin cracks. Remove from the oven and take off the cookie tray and let cool.
1. Using a paring knife, cut the stem from the leaves of kale and discard. Wash kale well. Dry kale very well either in a salad spinner or blotted on a paper towel.
2. Slice kale thinly and place in a large bowl.
3. Sprinkle olive oil, lemon juice and salt on kale.
4. Massage the kale gently for about 2-3 minutes or until kale has deflated by roughly half.
5. Toss in the Clementine segments and the hazelnuts.
6. Drizzle with the dressing and toss to coat completely. Serve immediately.