Recipes
Coconut Tart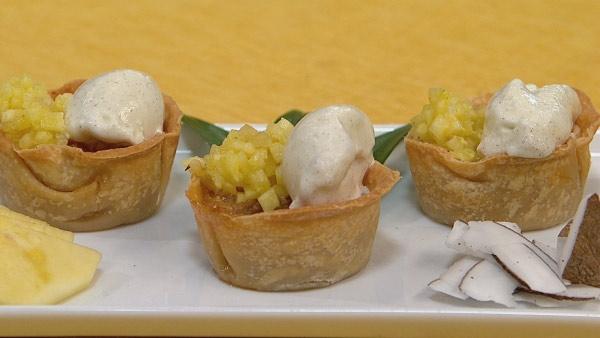 Servings: 12 Tarts
Difficulty: Moderate
Time:
Provided by: Chris Koetke
1 large coconut
1 cup packed brown sugar
1/4 teaspoon ground nutmeg
3/4 teaspoon ground ginger
3 Tablespoons dark rum
1/4 cup water
12 oz. can evaporated milk
2 Tablespoons butter
30 oz.pre-rolled pie dough
1 1/2 cups finely chopped fresh pineapple
Directions
1. Place coconut in a cake pan to catch the juices. Break the coconut open into several pieces using a hammer. Using a small knife, pry the coconut flesh from the shell. Rinse the coconut pieces. Discard the shell and the coconut water. Finely grate the coconut meat.
2. In a medium saucepan, combine grated fresh coconut, brown sugar, nutmeg, ginger, rum, and water. Cook over moderate heat for 10 minutes, stirring frequently so as not to burn the coconut.
3. Add evaporated milk. Bring to a boil and let reduce for about 10 minutes or until the evaporated milk is almost completely reduced. Stir often to prevent burning. Stir in butter, remove from the pan and let cool.
4. Meanwhile, cut out circles of the pie dough to line regularly sized muffin tins. The dough should come up to the top of the molds which should require about a 4-inch circle of dough.
5. Fill the muffin tins with coconut mixture. Bake in a 350 degree oven for 35-40 minutes or until the dough is lightly browned. Remove from oven, let cool until warm, and then unmold.
6. Serve the tarts warm or at room temperature topped with a couple of spoons of pineapple. Vanilla ice cream also makes a great accompaniment.
* Enjoyed throughout the Caribbean, this is a great dessert to serve warm from the oven along with ice cream. It is also great for parties as they can be easily picked up from a buffet. The fresh pineapple helps to balance the richness of the tart. One other note -- you will notice that this is made from freshly grated coconut. While this takes some work, it is really worth the end result.