Recipes
Citrus and Cilantro Pork Tenderloin Sandwich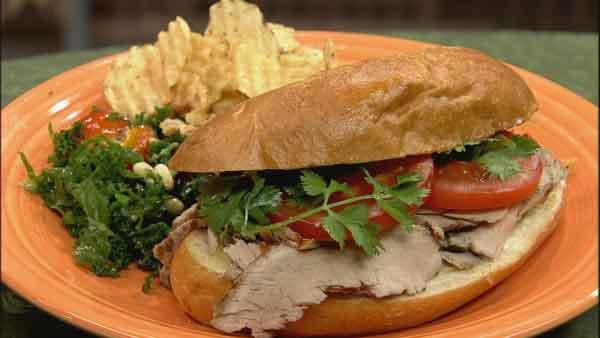 Servings: 4
Difficulty: Moderate
Time:
Provided by: Chris Koetke
4 garlic cloves, minced
8 tablespoons extra virgin olive oil, divided
1/2 teaspoon dried oregano leaf
1/4 teaspoon ground cumin
3 Tablespoons lime juice
1 teaspoon salt
1 jalapeno chile, minced with seeds
2 pork tenderloins
4 7" submarine sandwich bread
6 tablespoons mayonnaise
Tomato slices
Cilantro leaves
Lime juice
Hot sauce
Directions
1. Mix together garlic, 5 Tablespoons olive oil, oregano, and cumin. Remove and reserve 3 tablespoons of this oil mixture. To the remaining oil mixture, add lime juice, salt, and jalapeno chile.
2. Slice the pork tenderloins lengthwise to butterfly so that is lies flat. Rub the pork tenderloins with the oil and lime juice mixture. Let it marinade for 2 hours.
3. Grill the tenderloins over high heat until it is well browned and cooked through. Remove from the grill and let rest for 5 minutes.
4. Add 2 remaining Tablespoons of olive oil to the 3 tablespoons of garlic olive oil from step one. Brush it on the insides of the submarine buns. Lightly grill the buns.
5. To make the sandwiches, thinly slices the pork. Coat the inside of each bun with mayonnaise and pile on the sliced pork. Squeeze lime juice over the pork. Top with tomato slices, cilantro, hot sauce if desired.