Recipes
Chocolate Guinness Cheesecake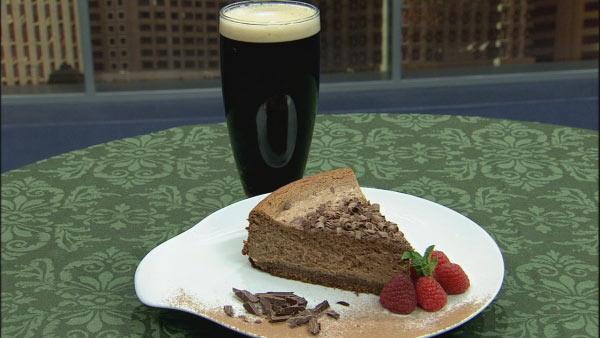 Servings: 10
Difficulty: Moderate
Time:
Provided by: Chris Koetke
2 cups graham cracker crumbs
3 Tablespoons cocoa powder
1 stick melted butter
2 pounds cream cheese, room temperature
1-1/2 cups sugar
2 teaspoons vanilla extract
2 bottles of Guinness
8 oz. high quality semi-sweet chocolate, chopped
1/3 cup flour
5 eggs
Directions
1. Pour Guinness into a medium saucepan and bring to a boil. Boil until the Guinness has reduced to 1 cup. Remove from the pan and let cool.
2. In a bowl, combine graham cracker crumbs, cocoa powder, and melted butter.
3. Press this mixture into the bottom of an 11-inch spring form pan.
4. Place chocolate in a bowl above boiling water to melt the chocolate. Once it is melted, remove the bowl from the water and reserve.
5. In a mixer with the paddle attachment, combine cream cheese, sugar and vanilla.
6. Add reduced Guinness and mix until well combined.
7. Add chocolate and mix until well combined.
8. Add flour and mix until well combined.
9. Add eggs one at a time, mixing well after each egg is added.
10. Pour cheese cake batter into the spring form pan. Place in a 325 degrees oven and bake for 40 minutes.
11. Remove from the oven and let cool. Then, place in the refrigerator. Serve when cold.