Recipes
Chocolate Cinnamon French Silk Tartes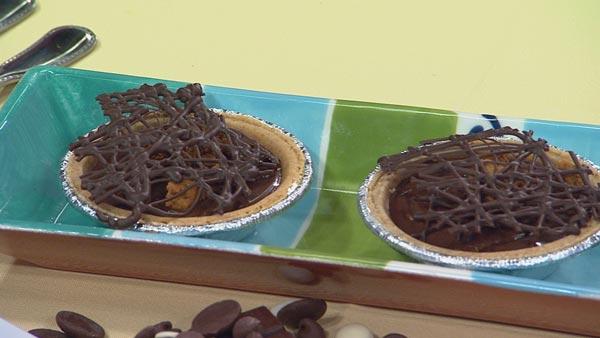 Servings: 6
Provided by: Chris Koetke
12-ounce container silken tofu
1/4 cup confectioner's sugar
1/3 cup brown sugar, packed
1/2 cup cocoa powder
1/4 teaspoon vanilla extract
1/4 teaspoon high quality ground cinnamon
2 oz. semi-sweet chocolate, melted
6 individual graham cracker shells*
6 gingersnap cookies, crushed
2 oz. semi-sweet chocolate
Directions
1. In a blender, combine tofu, sugars, cocoa powder, vanilla, cinnamon, and melted chocolate. Process until smooth.
2. Pour chocolate tofu mixture into the graham cracker shells. Refrigerate for a minimum of 4 hours to allow the mixture to solidify.
3. When ready to serve, sprinkle tops of the tartes with crushed gingersnaps.
4. Garnish with chocolate lace (see below)
Chocolate lace:
1. Melt chocolate in a bowl over boiling water.
2. Drizzle chocolate in a random pattern on a cookie sheet lined with parchment paper. Refrigerate.
3. To serve, break off random sized pieces, place on tartes and serve immediately.
Nutritional Analysis: Cal: 303 T. Fat: 10gm S Fat: 3gm Chol: 0mg Sod: 225mg Carb: 51mg Fib: 4gm Pro: 9gm