Recipes
Chicken Breast with Wild and Long Grain Lemon Rice With Asparagus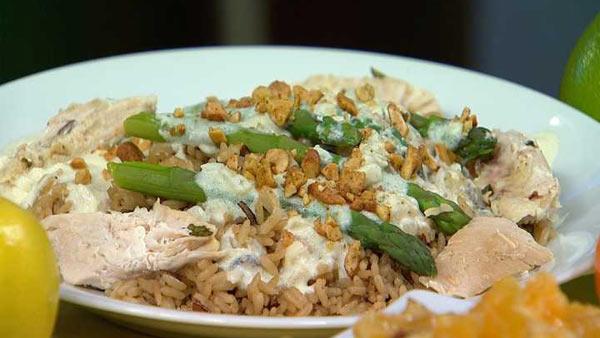 Servings: 2
Provided by: Chef Myki Romano
2 chicken breasts, boneless and skinless and pounded flat (about ½
inch thick)
1/2 cup lime juice
1/4 cup cilantro
1 Tablespoons olive oil
1/2 teaspoon salt
Ground black pepper
12 stalks asparagus
1/2 chopped medium Vidalia Onion
2 teaspoons olive oil
1 clove garlic, crushed
4 wedges Laughing Cow low fat Swiss Cheese
1/2 cup fat free, low-sodium chicken broth
Juice of one lemon
2 teaspoons low sodium soy sauce
Black cracked pepper
1 cup cooked long grain and wild rice
1/3 cup Thai lime and chili cashews (available at Trader Joes -- otherwise substitute roasted salted cashews), crushed
Directions
1. In bowl, mix lime juice, cilantro olive oil, salt and pepper. Place chicken in glass baking dish and add marinade; cover and refrigerate for about 2 hours. Cook on grill about 10 minutes or until done. Cut into slices and serve on rice.
2. In pot, boil in salted water to blanch Asparagus for about 1-2 minutes depending on size. Reserve.
3. In skillet, saute chopped onions in olive oil until translucent. Add garlic and saute.
4. Turn heat to low, stir in Laughing Cow Cheese and small amount of chicken stock. Melt cheese, then add remaining chicken stock, juice of 1 whole lemon, and soy sauce. Continue to stir until completely integrated. The sauce will have a thin consistency.
5. Top rice with Asparagus spears and chicken, pour on sauce, add cracked pepper and top with crushed Thai Lime and Chili Cashews.
Nutritional analysis: Cals: 596, T.Fat: 30gm, S.Fat: 7 gm, Chol: 104mg, Sod: 841 mg, T.Carb: 38gm, Fib: 4 gm, Pro: 48gm