Recipes
Beet Citrus Salad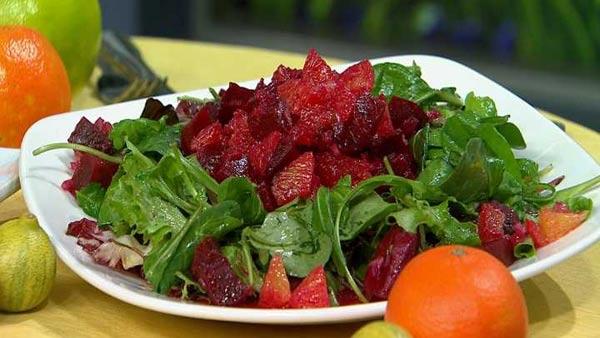 Servings: 4
Provided by: Chris Koetke
2 cups beets (about 4-6 medium sized beets)
4 oranges, ruby grapefruit, or blood oranges cut into segments and then diced*
1/4 teaspoon salt
1/8 teaspoon ground black pepper
2 Tablespoons minced red onion
12 Tablespoons citrus vinaigrette
5 oz. bag of pre-cleaned spring lettuce greens or baby spinach
Additional black pepper
Directions
1. Placed well washed beets on a baking sheet and roast in a 350 degrees oven for 1-2 hours or until the beets are completely tender. Remove from oven and let cool. Peel and dice.
2. In a bowl, combine all ingredients except lettuce mix and half of the orange vinaigrette. This is best mixed a couple of hours ahead of time to allow the flavors to mix.
3. In a separate bowl, toss lettuce mix with remaining vinaigrette.
4. To serve, place lettuce mix on the bottom of each plate or salad bowl. Top with beet and citrus salad, sprinkle with additional black pepper and serve.
Nutritional analysis: Cals: 148, T.Fat: 5gm, S.Fat: 5 gm, Chol: 0mg, Sod: 237mg, T.Carb: 26gm, Fib: 6gm, Pro: 3gm
Citrus Vinaigrette
Yield: 24 Tablespoons
Ingredients:
3 Tablespoons orange juice concentrate, thawed
1/4 cup lemon juice
1/2 cup orange juice
1 teaspoon orange zeste
1/4 teaspoon salt
1/4 teaspoon ground black pepper
1/4 cup extra virgin olive oil
1/4 cup vegetable oil
1. In a bowl, combine concentrate, lemon juice, orange juice, orange zest, salt and pepper
2. Whisk in olive oil and vegetable oil.
Nutritional analysis: (per Tablespoon) Cals: 94, T.Fat: 10gm, S.Fat: 2 gm, Chol: 0mg, Sod: 44 mg, T.Carb: 4gm, Fib: Tr gm, Pro: Tr gm