Recipes
Andouille Stuffed Chicken Breast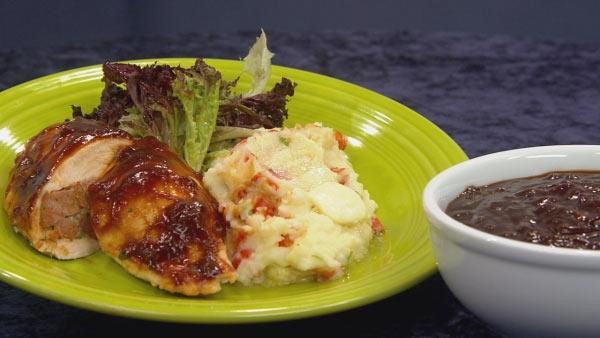 Servings: 4
Difficulty: Easy
Time:
Provided by: Chris Koetke
4 large chicken breasts, boneless, but skin on preferably
1 cup diced onion
6 oz. Andouille sausage, diced
2 pinches salt
2 pinches black pepper
2 Tablespoons minced parsley
Guinness BBQ sauce (see below)
Directions
1. Cut a pocket in the side of each chicken breast by inserting a knife into the thickest side of the chicken breast. The knife should be parallel to the cutting board. Try to make the incision as small as possible by pivoting the knife inside of the chicken breast instead of slicing down the chicken. This way, you will have a large pocket, but only a small opening. Reserve.
2. In a saute pan over moderate heat, cook the onions in the olive oil.
3. When the onions are very soft and lightly caramelized, add the andouille sausage and continue cooking for another 4 minutes. Add salt and pepper.
4. Remove the onion and sausage mixture from the pan and mix with parsley. Let cool. This mixture can be prepared 1 day ahead of time and stored in the refrigerator.
5. Stuff each chicken breast with some of the cold onion and sausage mixture. Close the breast with a toothpick. Do not stuff the chicken breast in advance, but rather 30 minutes prior to grilling.
6. Season the chicken with additional salt and pepper. Rub the chicken with additional olive oil to prevent it from sticking to the grill.
7. Bake in a 400 degrees F oven until the chicken is cooked through--165 degrees F (about 25 minutes). Cooking times will vary depending on the size of the chicken breasts.
8. When the chicken is cooked, brush the chicken liberally with Guinness BBQ sauce and cook for several more minutes. Serve the chicken with additional BBQ sauce.
NOTE: The best way to insure that the chicken is completely cooked is to insert an instant read thermometer into the side of the chicken breast.
Guinness BBQ Sauce
Difficulty: Easy
Prep time: 15 minutes
Cook time: 35 minutes
Makes: 3 cups
1/4 c. onions, minced
2 T. olive oil
2 cloves garlic, minced
3 bottles Guinness Beer
1 3/4 c. ketchup
1/2 t. dry mustard
7 T. brown sugar
1 t. ground black pepper
1/4 t. dried thyme leaf
1/2 t. salt
1 T. cider vinegar
1 t. Worcestershire sauce
1 t. soy sauce
2 t. Tabasco
1. In a large saucepan over moderate heat, cook onions in olive oil until they are translucent.
2. Add the garlic and cook for 1 more minute.
3. Add the Guinness and over high heat, boil the beer until it has reduced to 1 1/2 cups.
4. Add the remaining ingredients, bring to a boil, and simmer for 20 minutes.
5. Remove from heat and let cool. The BBQ sauce can be prepared 2-3 days in advance and kept in the refrigerator.
Red Pepper Mashed Potatoes
Difficulty: Easy
Prep time: 10 minutes
Cook time: 30 minutes
Serves: 4
2 lbs. peeled Russet potatoes, cut into a large dice
1 1/2 cups hot milk
2 red peppers, diced
2 Tablespoons olive oil
2 Tablespoons minced green onions
3 Tablespoons butter
1 teaspoon salt
1/2 teaspoon chile powder
1. Place potatoes in a large saucepot and cover in cold water. Bring to a boil, reduce heat to a steady boil and cook until the potatoes are very tender.
2. While the potatoes are cooking, sauté red peppers in olive oil until very soft.
3. Drain potatoes in a colander. Allow to drain until completely dry. Return to the pot and mash while steaming hot. (If the potatoes are not mashed while totally hot, they risk becoming irreversibly gluey.)
4. Add hot milk into potatoes and stir to combine. Add sautéed red peppers, green onions, butter, salt and chile powder. Stir until incorporated and serve.