Knock It Off! Episodes
Whimsical Playroom Makeover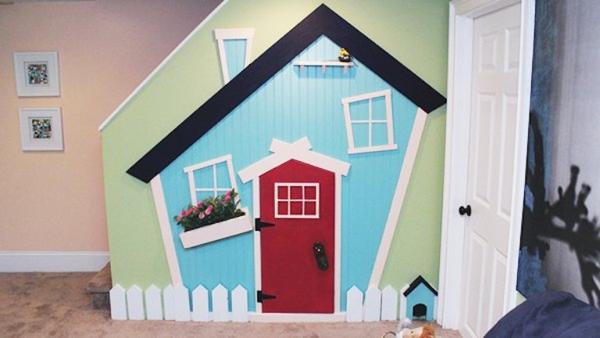 Design bloggers Monica and Jess help this family transform a basement overrun with toys into a whimsical, organized playroom with plenty of space for creativity and imagination, all for under $700. Watch how they create a play house under the stairs, a dollhouse from a cube bookshelf, a play stage and lots of fun decor in a room perfect for two little princesses.
After having to rebuild their home due to a devastating fire, Sheri and Stephen's creativity is burnt out when it comes to finishing the last room: turning their basement into a playroom for their two daughters. Sheri and Stephen envision a brightly-colored, whimsical space where their two princesses, Serefina and Liliana, can play and grow. With seven kids between them, Jess and Monica know all about kids and playrooms, so they put together a plan to use every inch of space to create the ultimate playroom within the couple's budget of $700.
In order to create a totally kid-centric room, Monica and Jess need to introduce bright colors, funky fixtures, and unique qualities into the space. By dividing the room into different zones, the girls will have many options for play and create a playroom that will grow with them through the years.
Monica and Jess know that every little princess loves to feel like the center of attention, and what better way to display her talents then with a mini-stage. Jess and Sheri build a frame and platform to create a triangular stage to fit in a corner and will hang curtains on either side. They also build a dress-up rack where Serefina can hang all her princess clothes for multiple wardrobe changes during her performances.
The couple's inspiration pictures featured a darling playhouse, but those cute little houses can be expensive, running up to $2,000. Instead, Monica shows Stephen how they're going to utilize space they didn't even know they had to create a playhouse for the girls under the stairs. Contractors tend to leave void space during construction under the stairs, and by making the plain wall look like the front façade of a house, Monica and Stephen will use this empty space to create a home within a home. Once they remove the baseboard and cut the drywall into a door, the once boring white wall is on its way to becoming a miniature mansion.
To make the house feel whimsical, Monica makes the home's outside a little off center. She uses bead board to create the front of the house because it looks like siding. Painted a cute aqua color, they cut it to the shape of a house and use a nail gun to attach it to the wall. Then they add trim to create a roof and a window, creating a fun place for the kids to play.
The couple's couch is in really good shape, but it could use some kid-friendly additions. Monica and Sheri use felt, store-bought pillow covers, and fusible web to create alphabet pillows. Pillows like these can run $30 a piece at a store, but by cutting, ironing, and stitching the pillows themselves, Monica and Sheri cut the price by more than half, all without a sewing machine!
While Monica and Sheri work with their ABC's, Jess and Stephen are ready for tea time. Using porcelain teapots and an inexpensive floor lamp, they're going to create knock off of an expensive floor lamp Jess has seen at a high-end kids store. After spraying the tea pots and tea cups white, Stephen drills into the bottom with diamond drill bit. Jess then strategically slides the pottery onto the lamp and glues them into place, creating a quirky, fun design.
Now that the girls have their own playhouse, their dolls need a comfortable home of their own. Dollhouses can cost between $200 and $600, but by using a cube shelving unit, Jess is able to create the perfect home for any doll for way less. Jess and Sheri flush the unit against the wall, hanging it on brackets, and decorate inside using adhesive glue and scrapbook paper. They add fun details like a roof and clouds with more scrapbook paper and some washi tape.The best feature about this dollhouse is that it can be converted into storage space as the girls grow older, making it both fun and functional!
Sheri and Stephen leave Monica and Jess to add their finishing touches, but little do they know the dynamic duo have one last trick up their sleeve - a large piece of art. Using a stock photo of a butterfly that they found online, they print it out in three large engineer prints and attach it to the wall using spray adhesive. Then they add a little color to the black and white picture using sidewalk chalk, which makes their new mural look a bit 3-D.
It is finally time for Sheri and Stephen to see their finished basement. The room that was overrun with toys is now an imaginative, play date paradise with endless possibilities. Sheri and Stephen are impressed with the amount of space they never knew they had, and Serefina is even more impressed with her new play-topia!
A high-end playroom could cost over $2,000, but Monica and Jess actually only spent $614, coming in $86 under budget for the entire room. Sheri and Stephen love the room, and better yet, so do Liliana and Serefina! These two princesses now have a wonderful place to play for years to come.