Knock It Off! Episodes
Peel and Stick Stainless Steel Backsplash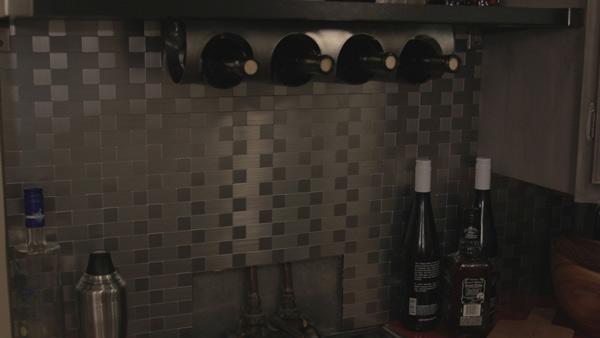 There is absolutely no easier way to install a backsplash than by using peel and stick backsplash tiles designed for that very purpose! Anyone can do this with little to no DIY experience!
1. Measure the space to determine how much tile you will need. Peel and Stick backsplash tiles come in a 12x12 sheet so measuring should be nice and easy! Prep the wall by wiping away dust and making sure the wall is nice and flat.
2. Use a laser level and a chalk line to mark the wall and make it easy to keep your tiles level as you go. Our countertop was not level at all, so don't always assume that you can line your tile up with the counters and come up with straight lines.
3. Peel away the paper from the back of the tile and press firmly to the wall, making sure to line it up with your chalk line. Make marks on any tiles that need to be cut (like around an outlet, for example) and make appropriate cuts with a metal attachment on your saw or a grinder. Thankfully, we didn't need to make any cuts, so our process was so simple!
4. Step back and admire all that beautiful tile work that you did in no time with no masonry experience needed.
If you want more information about this project or any of the other projects in this room, check out Jess and Monica's blog, East Coast Creative!