Knock It Off! Episodes
How to Stencil Curtain Panels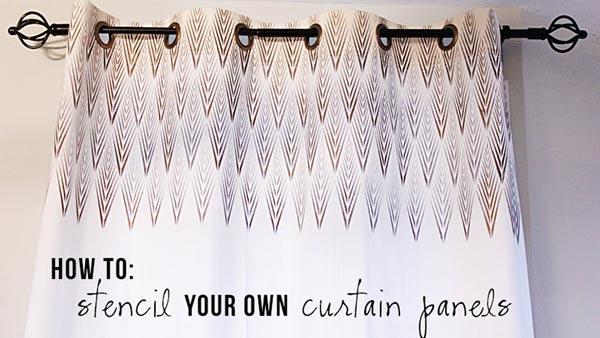 These modern and elegant curtains look expensive, but you can make them on the cheap with plain curtain panels, a cool stencil, paint and grommets. Here's a DIY tutorial for these stenciled curtain panels.
Plain, jane curtains are the perfect starting point for lot of fabulous knock-offs, including these modern geometric stenciled curtains with grommets! You'll Need:
Pair of white curtains
grommet kit
stencil cremes in various colors
stencil brush
stencil
piece of cardboard
painters tape
measuring tape
fabric scissors
1. Iron the curtains so they lay flat. Determine the placement of the stencil using the alignment marks on the stencil and tape into place with painters tape. 2. Dip the stencil brush in the stencil creme (if you use stencil cremes you don't need to add fabric medium- score!). Offload the excess paint by moving the brush in a circular motion onto a piece of cardboard. Make sure there isn't too much paint on the brush, which can cause bleeding. 3. Place the stencil brush over the opening of the stencil and move the brush in a circular motion. There's no need to lift the brush to "stipple" as this method works better and is easier with the stencil cremes. Continue stencilng and re-aligning the stencil until curtains panels are finished. 4. Once the paint has dried, figure out the placement of the grommets by evenly spacing them along the top of the curtains. Most kits will come with eight grommets. Using the grommeting guide, trace a circle on the fabric where the grommet will be. Cut along the lines of the circle with fabric scissors. Continue until all grommet holes have been cut out. Lay the grommet with teeth underneath the fabric, and the grommet without teeth on top and press together until you hear a snap. The grommet should fit snugly onto the curtain. You're done!