Knock It Off! Episodes
How To Refinish Kitchen Cabinets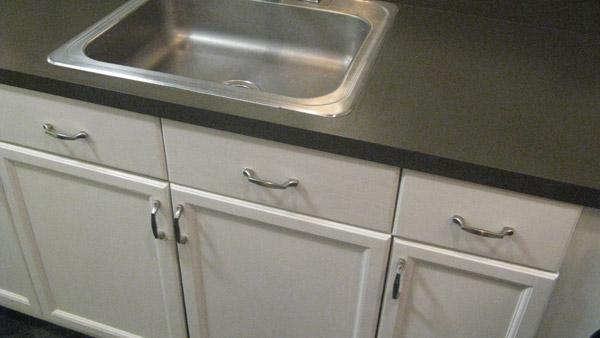 Refinishing cabinets can cost almost as much as buying them new, but you can easily take off the glaze and give them a fresh coat of paint. Get DIY tips for transforming your own cabinets for under $150!
Painting cabinets, while a little time-consuming, is a great cost-effective way to update the entire look of a kitchen. All you need is steel wool, paint, a few paint brushes and rollers and some time and you can get the kitchen cabinets of your dreams!
1. Remove the cabinet doors from the frames. Take off all of the hardware at this time and put them in a safe place, if you're going to be reusing them. We did reuse the hinges for the cabinets, but that was it.
2. Set up a work station where you can lay out all of your cabinets at once. This is the fastest way to get all those cabinets painted as fast as possible.
3. If you're cabinets aren't super glossy, you can use regular old steel wool to rough up the fronts of the door. You just want to make it so that the paint adheres. If you're cabinets are glossy, go ahead and sand them.
4. Wipe down the cabinet doors to remove all dust. Make sure you use paint plus primer to get the best coverage. Using foam rollers designed for cabinetry, roll on the paint in even coats, making sure to not drip!
5. Once the paint has cured for the recommended time, flip them over and repeat the process on the insides of the doors.
6. Rough up the frames of the cabinets and paint them, as well. Once they're dry, rehang your cabinet doors.Reattach the hardware, or install new hardware. This is when you can step back and admire the way your kitchen feels completely transformed!
If you want more information about this project or any of the other projects in this room, check out Jess and Monica's blog, East Coast Creative!