Knock It Off! Episodes
Fireplace Makeover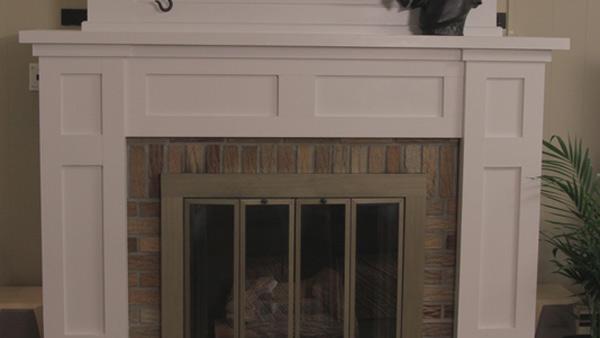 If you don't like your brick fireplace, never fear! You can completely change the look and style of it with some wood and carpentry for much less money than hiring someone else to do it!
1. Measure and cut four pieces of wood to act as the vertical framework for the space underneath the mantle. Level and attach your pieces to the brick using construction adhesive and a power fastener. Power fasteners actually use gun powder, so be prepared for a loud noise and a bit of kick back when you use it. Also, try to shoot the nail into the mortar so that you don't crack the brick. You'll also need to make sure you allow six inches all the way around the fireplace opening for safety reasons.
2. Cut plywood panels to attach over the framework you just added to the bookshelf. These will act as the base for our new fireplace facade and will be dressed up with pretty trim later one.
3. Using plain 1 x 3's, box out the plywood panels and attach with construction adhesive and a regular nail gun. Immediately, you'll begin to see your new fireplace taking shape!
4. We love the look of chunky mantels, so we templated out the shape of the old mantle (it actually wrapped around the brick on the top of the fireplace, and cut two identical pieces from plywood. We attached them to the old mantle with construction adhesive and a nail gun again. Then add trim to give the look of a chunky piece of wood.
5. Above the mantle, we used the same method as before: added framework and then put wood planks horizontally across the front. We added some beautiful trimwork and the build was complete! It's amazing how a little bit of simple trim can completely transform something plain into something gorgeous!
6. Caulk any seams and fill nail holes with wood filler. Paint the entire new surround with a fresh coat of white paint and let dry.
This fireplace transformation changed the look and style of the entire room. This project is definitely a time-intensive project, but if you're willing to do a little work, then go for it!
If you want more information about this project or any of the other projects in this room, check out Jess and Monica's blog, East Coast Creative!