Knock It Off! Episodes
Designers Craft Plan to Transform Outdated Family Room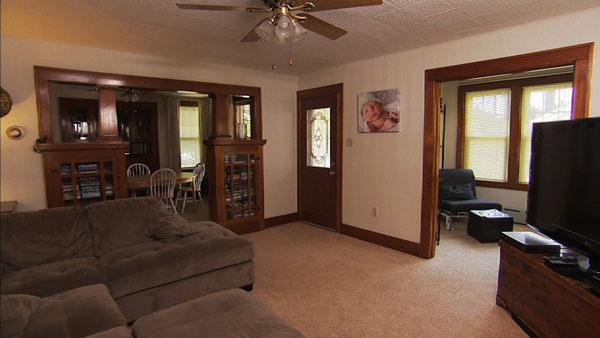 With budget of $400 to $600, designers Monica and Jess make a plan to transform the homeowners' family room into an updated, bright space.
When a drastically outdated room calls for some drastic design measures, it is time for designers Monica and Jess to cross their fingers and get rid of the rule book. But will their extreme room makeover push the homeowners too far or bring the room back from the brink of extension?
"Rules are made to be broken," said Jess.
"Especially when you are crazy DIYers like us," said Monica.
The room is spacious with a lot of architectural details but the homeowners Jesse and Teri would like to update the space.
"We bought the house because of the character but we do not like the color," said Teri. "Everything just seems really dark," said Jesse.
Monica thinks the room just needs some unity and direction.
Based the style that the couple likes from the inspiration photos, Monica and Jess want to give the room a timeless and traditional feel with a little bit of spunk.
The couple sent a photo of an accent wall with some fun, trendy wall paper that would cost $100 to $200 per roll so Monica and Jess plan to add a stenciled accent wall to the room. Stencil is nice because when you get sick of it, you just paint over it.
The coffee table that the couple likes was at least $450, which is almost their entire budget for the room. So, they will be building a coffee table to save money and it will provide storage for the room.
Monica and Jess' rule is never put your TV over your fireplace but they are going to break that rule this time. It will make the room feel much bigger. Since they don't want the TV to take center stage in the room, they plan to paint the fireplace a bold, bright color. They also plan to paint all the dark wood trim white -- which will give the room an updated, fresh look.
As a bonus, Monica and Jess plan to paint the sunroom that is connected to their family room and add some additional seating. It will help with the flow of the room.
Jess and Teri get to work by removing the wallpaper. In order to do this, they have to remove the top plastic layer by scoring it and then ripping it down or up. After they remove all the paper they use a mixture of fabric softener and water to get the glue off. You never know what you are going to get when you remove wallpaper -- it could be a challenge or really easy. In this case, it was a mix of both.
Once the wallpaper comes down, a soft blue paint color is left on the wall. But, homeowner Teri doesn't like the color. Now, Jess is nervous to tell her that she picked the exact same color for her fireplace. When Monica shows her the paint color, Teri says she loves it because it won't be on a whole wall -- just the fireplace.
To paint a brick fireplace, use a wire brush to remove any dirt and soot from the brick and then wipe off any residue with a rag so the paint will adhere properly.
Then, Jess and Jesse get to work on the old ceiling fan by giving the old wood a brushed nickel look. By painting the blades, using decorative yarn and a drum shade, they are able to really give the new ceiling fan an updated and high-end look.
"When we started the project I had no idea what we were doing. After we painted it, it almost immediately looked like brushed nickel," said Jesse.
After giving the sunroom a fresh coat of yellow paint, Monica and Teri begin building the new seating bench for the room. The sunroom is Teri's favorite room in the house so Monica hopes that with the additional seating, she will be able to enjoy it more.
In one of Terri and Jesse's inspiration pictures was an accented wall with a fun wallpaper print. In an effort to save money, Jess and Terri make their own accent wall with a herringbone stencil and five different colors of paint. Using spray adhesive on the stencil so it sticks to the wall, they tape around the edges and get to work. The web is really great resource for finding different types of stencils -- just make sure you get a high-quality one.
Then, Monica teaches Jesse just how to build his very own coffee table for under $75. They finish it off by staining it a grey color that will complement their colorful walls.
Monica and Jess finish the room with some smaller projects -- new pillows, pictures and other accessories.
After two days of painting and some creative DIY tricks, designers Monica and Jess have finished the complete transformation of Teri and Jesse's family room. The new look is an updated space for the couple that incorporates some existing elements in the room.
A pop of color in this dark space was sorely needed. The homeowners were in tears that Monica and Jess were able to turn their family room into a timeless space with a little spunk. With only $400 to $600 to spend, this family room went from outdated to fully updated for only $583.
Note: To make the wallpaper remover, mix 2 parts hot water to 1 part fabric softener for an easy and low cost solution.