Knock It Off! Episodes
DIY Wall Stencils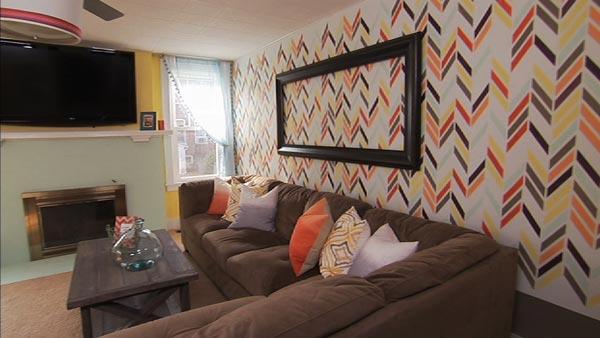 Stenciling is a great way to create an accent wall in your room. The project takes time but the impact it makes and the money it saves you is well worth the extra work!
The options for stencils are endless, and you can customize it with colors to match your decor! For best results, invest in high-quality stencils and brushes. You'll need:
wall stencil
stencil brushes
paint
papertowels or cardboard
spray adhesive
1. Spray the back of your stencil with adhesive and start in one corner near the ceiling. Before taping in place, use a level to make sure that you're aligned correctly. The placement of the first stencil is crucial to having an even, eye-pleasing stenciled wall. Press the stencil to the wall so that the edges are sealed. Use painters tape on the sides to help hold the stencil in place.
3. Dip the brush in the paint and off-load it in a circular motion on a piece of cardboard paper, paper plate or paper towels. Basically, get as much paint off the brush as you can so that it is almost dry. This will prevent bleeding.
4. Press the brush on the stencil and again, work in a circular motion to fill the openings in the stencil. Be sure to hit the edges well so that you have crisp lines.
5. Using the guides provided on the stencil, line up the stencil and repeat the process times one million. Ha! Just kidding, but be prepared. This will definitely work those forearm muscles!